Tesco's chief customer officer Robin Terrell believes its Brand Guarantee is a "big deal". He tells Retail Week about the scheme.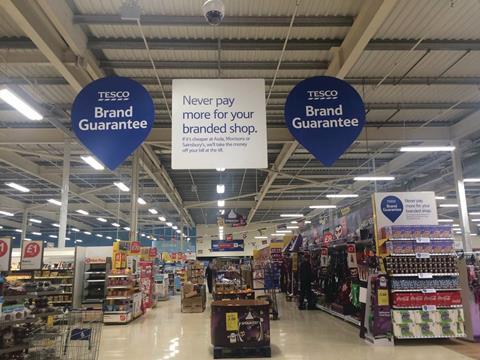 What has prompted the switch from Price Promise to Brand Guarantee?
As price matching in general has become more commonplace, what customers have been telling us is two things. One is that they want peace of mind that they won't lose out, but increasingly they just want simple, immediate value rather than vouchers.
The second thing that is clear with customers is that the things they really want to be sure of are products that are directly comparable – that is why the brand piece is so important. Customers' price perception is driven by brands and those are the things they want the most reassurance on.
As a consequence, that is what we have launched – Brand Guarantee will compare the price of your branded basket and if it is cheaper somewhere else, we will take that money off your bill at the till. You get simple, immediate value, rather than a voucher you might lose or forget to use in the future.
The other thing from a customer and colleague perspective is that paper vouchers get lost, or people don't scan them or you forget to take them with you. Our colleagues who work on the checkout love Brand Guarantee because it removes that problem and it's a very straightforward conversation with the customer.
So how will customers know if they have saved money?
It will be printed on their till receipt and there will be three different outcomes. The first is that we were more expensive than elsewhere and it will state the amount of money that has been taken off.
There is obviously the piece where we would have been cheaper anyway and we will still want to convey that customers. The third case will be if it is identical.
Something that has resonated strongly with customers is that we are also matching promotions elsewhere. Particular lines might be on promotion in one shop, but not in another. With Brand Guarantee, if something is on promotion elsewhere, we will match that in Tesco, so you don't have to shop around for brands.
What sort of advantage does that give you over your competitors?
It's early days, we've been running the pilot in Northern Ireland for a few weeks, but the feedback from customers there has been great.
Customers have really responded positively to this and I think it helps them to trust us – that's really important for us. We can give them that peace of mind that they aren't losing out.
How are you expecting your grocery rivals to react?
I think that's a question for them. We are very focused on what we are doing and we'll be doing that based on feedback from our colleagues and our customers.
We are very pleased with how it's been going in Northern Ireland and we have great expectations as it rolls out across the rest of the UK.
Have you estimated how much this could cost Tesco?
As you would probably expect, we have done, but I'm certainly not going to quote a number.
What you should know is that under Price Promise-type schemes only half of the vouchers are redeemed. What we are doing now is giving customers an immediate refund at the till if it would have been cheaper somewhere else.
Brand Guarantee does represent an investment from Tesco in our customer offer, but this is just one thing we are doing. We are excited about it, we think it's a big deal, but it's part of what we are doing on a wider scale to improve the customer shopping trip.
So do you have anything else lined up that you can tell us about that fits into that goal?
Alongside what we are doing today, we are continuing to reduce prices. It's a very dynamic market, but you can expect to see us continue to improve the prices of the lines that matter to our customers, both brands and our own brand products.
Going into the Christmas period, how big an impact can Brand Guarantee have?
As we head into Christmas, we are excited about this, but it's one of many things we will continue to do.
We know this is important to customers, because that's what they have told us, but so is on-shelf availability, so is having colleagues that can serve them, so is the deliveries they get from our online business.
All of these things add up – there won't be one big silver bullet. There are a lot of smaller things that add up, so we are back to 'every little helps' in its true sense.