Home delivery grocer Abel & Cole's profits rocketed in the year to August 12 and a sale is thought likely.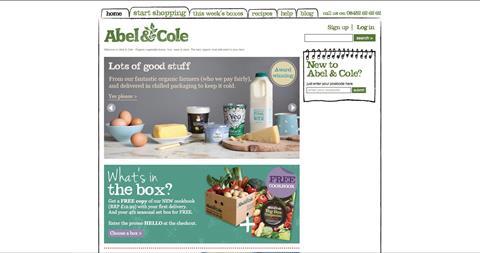 EBITDA at the organic vegetable box specialist jumped from £2.9m to £4.6m while turnover rose 32% to £46.5m.
Abel & Cole chief operating officer Ted Bell told Retail Week that a long-term improvement in the quality of its products had fuelled a strong performance and momentum had carried through into the current year. Last week like-for-likes surged 38%.
Bell was bullish on the outlook for the year, and is "confident" of exceeding Abel & Cole's target of boosting sales by 23% to £57.5m for the 2012/13 financial year.
"We have a history of outperforming targets," he said.
Abel & Cole has been up for sale since January 2011 when PwC was appointed to handle the process. Sources said it could be sold as early as this month and that a trade buyer is most likely, but Bell declined to comment on the situation.
Founder Keith Abel returned to the business in 2010 after a two-year break from operational involvement, replacing chief executive Stephen Richards.
Turnaround specialist Ian Gray was parachuted into the retailer during the same year to revive its fortunes after the recession hit consumer spending and the wider organic market. Bell believes that the improvement in Abel & Cole's core product offering since Abel's return has driven sales growth and that the market is improving.
Rival Riverford Organic last week reported pre-tax profits doubled to £1.2m in the year to the end of April while sales rose 6% to £41.8m.
Abel & Cole said it had 116,655 customers last year, compared with 81,000 the prior year, while average order size was flat at £24 to £25.