It wasn't long ago that a beleaguered Tesco was firmly in backs-to-the-wall, crisis-solving mode.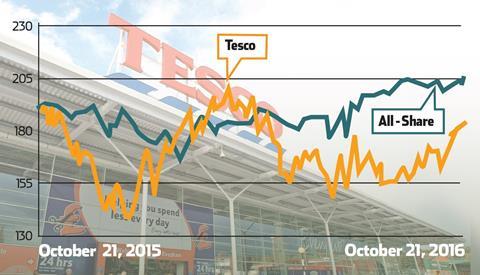 The grocer was seemingly hopping from crisis to crisis, with Dave Lewis's role resembling that of fire fighter rather than a retail chief executive.
Indeed, it was more than a year into his reign before Lewis felt the supermarket giant was ready to start blowing its own trumpet again and rekindle the kind of gentle humour and quiet confidence British consumers had learned to expect from the country's biggest retailer.
That moment – the launch of its Christmas adverts starring comic actors Ruth Jones and Ben Miller – was a significant step.
It was a sign that the worst of the fires surrounding Tesco's £263m accounting scandal and scorched relationships with suppliers had been doused and that the business was ready to rise from the ashes.
Full speed ahead
Fast forward a further 12 months and the Tesco story is less backs-to-the-wall, more pedal to the metal.
A fortnight ago, its bullish stance against supplier Unilever captured column inches – and Tesco clearly wants to capitalise on the high-profile row in Lewis's bid to reclaim the grocer's crown as consumers' champion.
"Everybody should be very clear how damaging inflation is to the economy"

Matt Davies
At the IGD Big Debate, Tesco UK boss Matt Davies added fuel to that flickering flame, insisting the retailer would do "everything [it] can" to keep prices low, and dubbed food price inflation "a bad, bad thing".
"Everybody should be very clear how damaging inflation is to the economy, to retail business, to manufacturing business and how lethal it can be to millions of people who are struggling to live from week to week," Davies added in his emotive address to an audience of retailers and suppliers.
And just two days later, Tesco revealed it was price-matching Argos on 8,000 products during the festive season as it bids to become "the UK's top destination for toys and games" this Christmas.
A PR offensive
Shoppers would no doubt have been encouraged by the supermarket's two-pronged PR offensive on price, which sparked more positive headlines for the business at a time when consumers are already being won round.
According to Nielsen, Tesco's sales rose 1.4% in the 12 weeks to October 8, marking its best quarterly sales increase in three years – as it continues to win back customers.
Shore Capital director Clive Black described Tesco's gains as "a potentially significant development for the whole trade, perhaps most notably for Sainsbury's", given the overlap in the geographies of the two grocers.
But for Black, Tesco's ongoing recovery – and its increasing willingness to shout about it – bodes badly for other competitors.
He warns: "With the market leader gaining share on an ongoing basis, others may find that they are running up a down escalator."
After years of wading through treacle itself, Tesco is picking up a head of steam and turning up the heat on its rivals.