French grocers have benefitted from purchasing alliances, but as the discounters squeeze margins, could UK retailers employ similar tactics?
As the growth of online shopping and the rise of the discounters continue to squeeze grocers' margins, some may be asking themselves whether they have the right commercial operating model in place to succeed in this climate, or if they need to implement new ways of working.
One interesting development across the Channel is the introduction of purchasing alliances, which French grocers have adopted to drive innovation and efficiency.
Buying in bulk
In 2014, Auchan announced a partnership with Metro Group, which permitted joint supplier negotiations of certain private-label products. Carrefour formed a similar alliance with Cora, covering branded products across grocery and general merchandise.
The benefits to such partnerships are obvious. Pooled volumes give retailers a stronger position for negotiating lower prices, while collaboration can fuel innovation and product development. Operating in the same geographies also means that retailers benefit from a reduction in logistics costs.
For suppliers, the arrangement should enable them to supply at lower costs and boost product margins. Ultimately, customers should benefit from lower prices and new products, too.
Double-edged sword
Yet the implementation of such agreements can be fraught with difficulty. While stronger buying power will force suppliers to become more efficient, at what point does such power have a detrimental effect on the supplier base?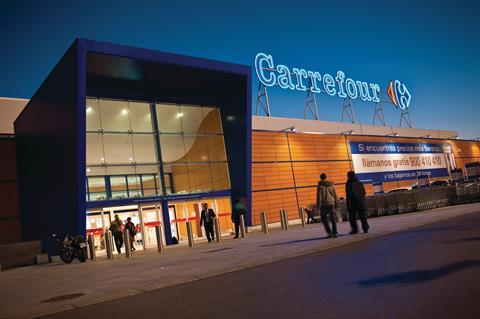 Both Carrefour and Cora insist they will maintain separate commercial and pricing policies, but with promotional negotiations linked to volume and pricing agreements, it's difficult to see how the dangers of collusion and information leaks can be avoided.
National competition authorities will also closely evaluate attempts to consolidate buying power to protect smaller retailers and suppliers. While the Carrefour–Cora agreement does not extend to fresh produce, nor to small and medium-sized businesses, there will be an indirect impact on those who are part of branded product supply chains.
Heading to the UK?
The alliance between Carrefour and Cora has now created four key players within the French market, with a 90% share combined. As the market was previously fragmented, it is within this context that the success of purchasing partnerships must be viewed.
"In a climate where the buyer-supplier relationship is subject to increased scrutiny, any attempts to shift the balance would be given short shrift"

Nick Jones, Capgemini Consulting
The grocery market in the UK is arguably different, with discounters only now pressing ahead with aggressive expansion, but who would look to create such an alliance?
With close to 30% of the market share, Tesco is an unlikely contender. Aldi, Lidl and Asda already achieve significant scale due to the global reach of their parent companies.
With smaller scale and market share, it's more likely that Sainsbury's, Morrisons and Waitrose have the greatest potential to benefit. Whether that's feasible is another question, for in a climate where the buyer-supplier relationship is subject to increased scrutiny, any attempts to significantly shift the balance of power would be given short shrift.
While the French and UK markets might require different solutions, the challenges remain the same – mastering commercial excellence in a new era of retailing, focusing on the right structure, processes, tools and knowledge, and evolving them.
Purchasing alliances might be the solution here, but given the legal sensitivities, the go-ahead will very much depend on the lawyers.
Nick Jones is a senior consultant in multichannel retail at Capgemini Consulting