Ocado has reported "strong momentum" in the lead-up to the festive period.
The grocer, whose retail arm is a joint venture with Marks & Spencer, said it expected its "best ever Christmas" this year, after customer orders were up 9% year on year in the 13 weeks to November 28.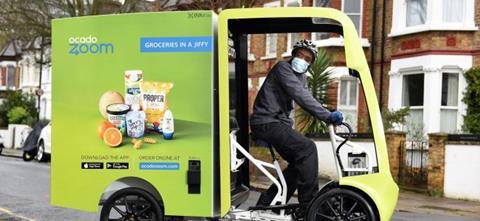 This was driven by a 22% increase in active customers to 832,000 – "heading towards the 1 million landmark", the grocer said.
Ocado's revenues slipped, however, as customer behaviours normalised post-lockdown.
Ocado attributed a 4% drop in sales to the tough labour market post-pandemic, which meant a temporary reduction in fulfilment centre capacity, as well as a 12% decline in average order values to £118 as customers returned to the office and spent less time at home.
Following the addition of two new fulfilment centres in Andover and Purfleet, Ocado said it expects capacity to increase in line with sustained growth.
It is set to open two new centres in Luton and Bicester in the next financial year, as well as four Ocado Zoom fast delivery sites, including one in Canning Town, London, in the second quarter.
Ocado Retail chief executive Mel Smith said: "Over the past year, our brilliant colleagues across Ocado Retail have been working to further strengthen our range and deliver more value for money to customers, as we continually refine and improve on the best customer proposition in the market.
"We are delighted that M&S products now account for nearly 30% of the basket – our customers clearly love the opportunity to buy M&S food online.
"The investments we have made over the past year mean we have significant capacity for growth in 2022 and we will continue to invest in facilities, systems and people in the year ahead to deliver on our long-term growth potential.
"We are working hard to manage current industry challenges and Ocado Retail has great momentum as we get ready for another record Christmas and further strong progress next year."
The news came as Ocado won a patent infringement trial against Norwegian robot maker AutoStore.
AutoStore claimed that the grocer's retail technology including its Smart Platform infringed several of its patents, filing claims in the US last year.
This prompted an investigation by the US International Trade Commission, which ruled on Monday that there was no violation.
The judge said three of AutoStore's patents were invalid and a fourth did not infringe.
Ocado has made claims against AutoStore's infringement on its patents in the US and Europe.
An Ocado spokesperson said: "We have consistently stated that Ocado does not infringe any valid AutoStore IP, and we are pleased that the judge has now agreed with us. This was a misconceived attempt by AutoStore to interfere with our business in the United States. We intend vigorously to continue our infringement claims against AutoStore in the United States and Europe."
Get the latest grocery news and analysis straight to your inbox – sign up for our weekly newsletter