Ocado finance boss Duncan Tatton-Brown insists the etailer has no fear of Amazon as it prepares to bring its grocery offer to the UK.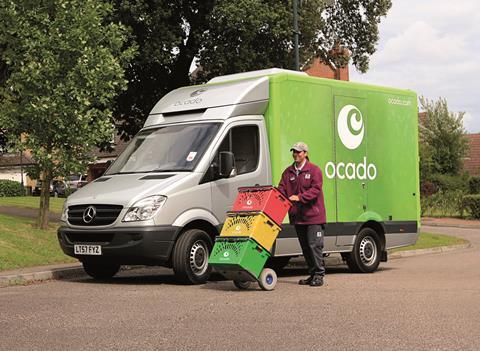 Tatton-Brown says Ocado is "not fearful" of Amazon Fresh
Says Amazon would "stimulate more demand" for online grocery shopping
Tatton-Brown reaffirms Ocado's confidence in signing international deal this year
The etailer is poised to report full-year pre-tax profit of £10-£15m
As revealed by Retail Week last month, the US online retailer has agreed a lease on a former Tesco warehouse in Weybridge, Surrey, which has seemingly paved the way for the launch of Amazon Fresh, the grocery service it already runs in parts of the US.
Several analysts have suggested that Ocado would be the grocer that suffers most from the potential arrival of Amazon Fresh, but Tatton-Brown believes it would "stimulate more demand for customers that shop for groceries online", which would be "good news" for Ocado in the long term.
"We are not going to ignore what they do, but we are not fearful of them."

Duncan Tatton-Brown, Ocado
Speaking after the online grocer revealed a 15.3% increase in retail sales in its third quarter, Tatton-Brown told Retail Week: "There are lots of stories about Amazon Fresh and its proposed launch in the UK.
"I do believe that Amazon is investing in new facilities in the UK but also globally. That's quite a significant investment, but it's unclear about whether that investment is for Fresh or their existing business.
"Will Amazon Fresh come to the UK? Your guess is as good as mine. I wouldn't be surprised if they came.
"Would we welcome it? It would be more competition for us, that's certainly the case, but it's also a new player in the online grocery market, which we think would stimulate more demand for customers that shop for groceries online. If that market gets bigger, that's good news for us.
"If the online grocery market grows, our bricks-and-mortar competitors will probably suffer more than we will as a sole player in that one market. We welcome competition and anything that grows the market is good news, we think."
Tatton-Brown added: "I think Amazon Fresh will bring something distinctive to the market. If they come up with some ideas that customers like, we can learn from that, we can adopt them, we can improve our business as well.
"We are not going to ignore what they do, but we are not fearful of them."
International deal
As Amazon plots launching its grocery proposition on British shores, Ocado is also focusing on overseas growth as it bids to sign a deal with an international retailer.
Chief executive Tim Steiner has openly set his business a target of securing a technology and logistics partnership by the end of this year, but despite no news coming from today's third-quarter update, Tatton-Brown remains confident a deal will be done.
He said: "We're silent on that in the announcement but that's because it's a sales update. We reported in July and reiterated our target at that time. You can be assured that target still remains.
"The fact we are not saying anything doesn't mean we aren't doing things – we are in discussions.
"We are confident, but we are not certain. It's a target not a commitment because someone else has got to sign the paper as well.
"We continue to talk to people and we are getting closer."
Tatton-Brown added that Ocado is on course to register a full-year pre-tax profit between £10m and £15m. In February, Ocado reported a £7.5m pre-tax profit – the first full-year pre-tax profit in its 15-year history.