The Aldi lifer has helped cause unprecedented turbulence in the grocery sector but, despite a fall in 2014 profits, he reveals he is far from finished.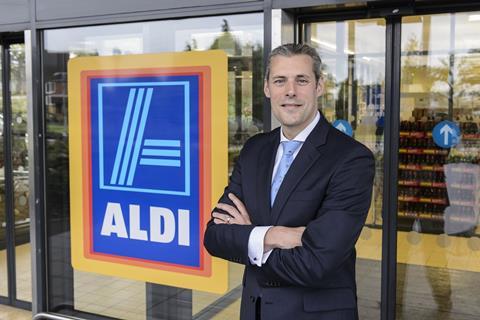 In light of the perfect storm his business has helped create within the UK grocery market, it is perhaps fitting that grey clouds have gathered and rain is relentlessly lashing against the windows of Aldi's Atherstone headquarters, as boss Matthew Barnes pulls up a chair in one of the building's under-stated meeting rooms.
The weather is synonymous with the battering that Barnes has helped inflict on his closest competitors in recent years. The hard discount model applied by Aldi, and its rival Lidl, sparked a ferocious price war that drove margins down and signalled a change in shopping habits as consumers became promiscuous in their desire to find the best value.
Equally synonymous is the way Barnes sits proudly upright in his chair, safe and dry from the torrential downpours and damage being inflicted outside, wearing a contented smile.
Lidl comparisons
But one topic in particular sees the smile slightly fade. It is the term 'German discounter' that the media so often uses to describe it, and also the constant comparisons with Lidl.
Barnes' response to the notion of frustrations at being compared with its discount rival riles an impassioned plea. "I look forward to the day when the media look at Aldi through the prism of Aldi being a retailer in its own right, that's British in all but ownership, that invests all of its profits into the British business, that employs 28,000 people in Britain and that has British credentials in terms of its suppliers, rather than being referred to, almost without exception, alongside Lidl as 'the German discounters'," he says.
"I can't remember the last time, for example, I saw the British media refer to McDonalds as 'the American fast food chain' or the last time McDonalds was coupled in the same sentence with Burger King. I understand it takes time, but there is, I believe, an unhealthy fascination with the fact that we are German-owned.
"I look forward to the day when the media look at Aldi through the prism of Aldi being a retailer in its own right."

Matthew Barnes, Aldi
"I find it a little bit frustrating and I do think that we deserve to be a business that's viewed as a British discounter in our own right, rather than constantly reminding people of our German origins.
"Hopefully that's just time, but I'm very patient and I'm sure we'll get there in the end."
For the time being, Aldi will continue drawing comparisons with Lidl. But it's the former that has managed to surge ahead of its neighbour in the UK – mirroring the way Barnes' football team, Manchester City, have left rivals United trailing in their wake in recent Premier League seasons.
And its plans to launch its eagerly-anticipated first UK ecommerce operation could help put further clear water between Aldi and its great rival.
Online launch
The grocer plans to sell wines by the case online from the first quarter of 2016. It will begin selling its Special Buys – seasonal non-food product lines such as cycling gear and DIY tools – online in the second quarter. Barnes again uses his buzzwords "listening to customers" as the main driver behind the move.
But the law and politics graduate reverts to the diplomacy of his student days when asked how successful the online business could become, and whether, in time, it could lead to an extension of the Aldi range or to an online grocery business.
"It's a bit of a toe in the water and it could be an enormous opportunity for us, but we are not getting carried away."

Matthew Barnes, Aldi
"We've been very selective as to why we've gone into it with wine and special buys," Barnes explains. "There is a path to profitability that we can see there – we don't see that in grocery right now, anywhere in the market. It's a sensible, considered and appropriate first step and the plan, for the foreseeable future, is to replicate the in store range in online.
"In time, I'm sure we will introduce some exclusives online, particularly in the area of wine, but we want to keep the business as consistent as we can. It's a bit of a toe in the water and it could be an enormous opportunity for us, but we are not getting carried away.
"If you look at the success of Argos and Amazon in the area of non-food online, it's a very well utilised service by the British public, pulling in electricals and DIY products to their door rather than going out and buying them. But we are taking it very steady."
Continued growth
Although Aldi has led an unprecedented disruption of UK grocery, Barnes admits the discounter is not "bulletproof" and has been impacted as it operates in one of the world's most competitive retail markets.
Aldi reported a 4% fall in operating profits to £260.3m in the year ending December 31 2014, despite a 30.7% hike in sales. And observers have noted Aldi's slowing growth. But Barnes dismisses such talk. "If we were looking just at sales growth percentages, then percentage figures are no longer in the thirties – they are in the mid to high teens. But our sales growth, as a cash figure in 2014, was £1.6bn. In 2013 it was £1.4bn.
"The cash sales growth we are seeing at the moment is greater than it was in 2012, when we were growing at 35%. Our increase in customer numbers is still aligned with, or greater than we have seen in previous years."
Barnes argues it is nigh on impossible for a business to grow at 30-40% five years in a row, but maintains: "The fact remains we are still growing faster than any other retailer in the UK in terms of both customer numbers and sales, so talk of growth slowing is a bit short sighted."
Barnes on…
The Living Wage
"We haven't knee-jerked and I still believe we are right up there as being the very best remunerator within the grocery sector. On average, our store staff earn £9.20 an hour, way above the Living Wage Foundation standard of £8.20.
"We are considering what's going on in the market, there's no doubt about that, but we pay breaks and we also give our store staff employees a minimum number of hours per week. Those things are all critically important.
"The fact that two retailers have said they are going to pay what the Living Wage Foundation sets hasn't changed our credentials."
Market Share
"It's very challenging to answer a question on where market share will go. I don't know what's going to happen at the Co-op or Morrisons over the next five or six years. Clearly, they have got a big say in how strongly our market share grows.
"I believe our market share will continue increasing. I've noted what analysts are predicting, but I'm not willing to predict that because there are so many variables.
"We don't have any targets, but when we overtook Waitrose to become number six, without doubt the business and everyone in it was pretty proud of that. If we can become number five, I'm sure we will embrace that with pride again. I still think it's an 'if' rather than a 'when', but the gap is closing."
Price leader
It is true that Aldi's growth is still far outstripping its rivals, and that is down, in part, to its commitment to price. But that commitment led to it posting its first dip in profits for five years, proving that even Aldi wasn't immune to the aftershocks of the price war as it ploughed investment into maintaining a meaningful gap over its rivals.
Barnes says he has "never calculated" Aldi's investment in price, but the grocer's intent is clear as he reaffirms its pledge to be a price leader – even at the expense of reduced profitability.
"We've been very consistent to a point of being almost metronomic with our competitors on price – if they drop, we go, without exception."

Matthew Barnes, Aldi
"We've been very clear, over a number of years when asked the question: 'what's Aldi's response going to be when the big retailers turn their guns on you?' that we won't let them do that," Barnes states, his smile making way for a sterner, business-like gaze.
"Our position is a very clear one – we won't be beaten on price, regardless of what happens in the market and among our competition. We've done what we said we would do, we've been very consistent to a point of being almost metronomic with our competitors – if they drop, we go, without exception.
"The message, both to customers and competitors, has been as clear as it can be and that is: 'we won't let you close that price gap'. We have a very lean, efficient structure and a private ownership with incredibly patient shareholders, who enable us to take a long-term view and react in a dynamic and aggressive way, which we've done very consistently."
Impact on profits
Barnes backs up his claims, flicking through a binder in front of him and pausing to state that 66% of Aldi's products have been reduced in price since August 2014, adding that its top 100 lines in terms of sales volumes are 7% cheaper on the year.
"That's dramatic, not just significant," he says. "Whilst there has been an impact on our profits, it's been a very small one – a 4% drop. In light of the aggression with which we've maintained our position as price leader, we are pretty happy with that decision. We are not bulletproof, nobody is. But I think we've been able to sustain the most aggressive price war in living memory very well and we're still in a very, very strong position."
That position has been strengthened by Aldi's move to position itself closer to the customer. When Barnes took the helm of the UK business alongside Roman Heini in 2010, the duo embarked on a huge research drive in a bid to turn the discounter's British business around.
Fresh proposition
Among the key findings was the need to bolster its fresh offer. Having listened to customers, Aldi has installed an extra 5km of additional chilled cabinets in stores across the country in the past 12 months alone, with sales of fresh produce now accounting for more than half of the discounter's total sales.
At the heart of that success has been what Barnes calls "a fairly big move" to enhance Aldi's SKU count from 850 to 1,350 during 2014 – a figure that has since risen again to 1,500. A lot of that is down to the fresh expansion, and Barnes won't rule out that number increasing further still.
"For now, that's good," Barnes suggests. "I can't comment on where we will go in the future, but we are resolutely committed to being a limited-line discount model. It is one of the cornerstones of our efficient business model. It has proven itself beyond reasonable doubt as an effective model as well as an efficient one.
"Customers in the UK are fed up of being bamboozled by choice, bamboozled by the smoke and mirrors of having to buy three to get the average unit price even close to Aldi. They love the simplicity of our offer, the honesty and the transparency.
"Our range delivers for us and we have no plans to increase that as things stand. If it's demanded, if it's necessary, we will do it. But we will always be a limited line retailer compared to our competitors."
Christmas range
Christmas, though, is a time for range expansion, says Barnes, as shoppers look to trade up for festive goodies, and Aldi has catered well for that customer in recent years.
Barnes waxes lyrical about the breadth of Aldi's Christmas proposition, thumbing through a draft festive brochure containing everything from "spectacular" premium mince pies to free range turkeys from Suffolk, from hand-decorated Christmas cakes to a growing selection of premium wines, vodkas, spiced rum and gins.
Barnes calls this Aldi's new 'super premium' range, and he says it is a big step for the grocer, building on previous Christmases when Aldi has sold caviar and lobster.
With the expanded Christmas range and the imminent online launch, Barnes, is certainly keeping himself busy. And the Aldi lifer – he joined the discounter's graduate scheme 18 years ago – clearly likes to keep busy outside of work too. A keen runner and cyclist – not to mention a father-of-three children aged between the ages of nine and 15 – Barnes jokes that he has "had a full MOT in my early 40s" following knee, and most recently hip, operations.
"It's a competitive market and therefore you've got to continue finding new dynamic, innovative ways to stay in front of the pack."

Matthew Barnes, Aldi
No doubt his sporting background helps give him the stamina to keep propelling Aldi to the top. Kantar data revealed it was the fastest growing grocery retailer in the 12 weeks to September 13, for an unprecedented 50 consecutive months. Its success has sparked a price war and margin and range reductions at larger grocers as they sought to simplify their business models.
"When you hit upon a winning formula, it doesn't take long for others to follow," Barnes says. "There's absolutely no doubt that others are following and trying to mimic that. It's a competitive market and therefore you've got to continue finding new dynamic, innovative ways to stay in front of the pack."
As that proud smile turns slightly mischievous at the mention of further innovation, grocery rivals would be advised to batten down the hatches, as that perfect storm sweeping across the sector may be about to get even more severe.
Behind the counter
Biggest inspiration
I always point to the five people I've worked for at Aldi. I've only worked for five people in 18 years, but each and every one of them has always been there for me, offered me impeccable advice and has always acted as a real mentor.
Last book you read
The House of Lancaster, about Stuart Lancaster, England's rugby coach, which I read in the build-up to the World Cup.
Last TV series
Breaking Bad. It's brilliant.
Last film you watched
Fury.
Favourite band or artist
Muse. I'm going to see them live in February – I can't wait.
Your last purchase
My Watt Bike, which I've got in my gym at home. It's a fantastic stationary bike which is as close as you can get to a road bike.