Sales at John Lewis dropped 1.4% to £126.24m in the week to December 27, but soaring demand for click-and-collect helped break records.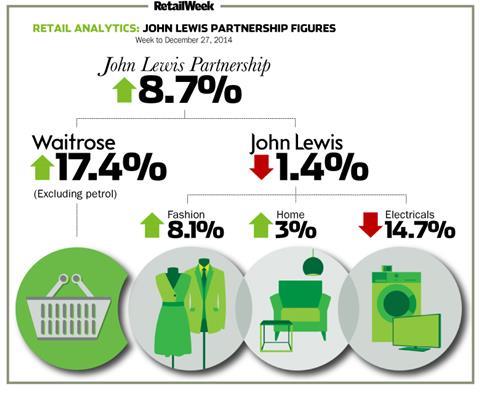 A number of John Lewis department stores including Sheffield, Croydon and Swindon experienced a double-digit fall in sales compared with last Christmas.
John Lewis's Sheffield branch reported a sales drop of 16.7%, while its Swindon store suffered a similar performance with revenue down 16.6%. Its Chester and Croydon branches saw sales drop 15.4% and 13.2%.
Sales at Johnlewis.com fell 4% during the period.
The retailer said sales of electricals dived 14.7% during the period. However, fashion proved to be more successful with sales up 8.1%. Sales in the home department increased 3%. Women's accessories and beauty reported a 25% rise in sales.
John Lewis online director Mark Lewis said during the week to December 27, the retailer's click-and-collect service broke records.
He said: "We had billed 2014 as the click-and-collect Christmas and it certainly came to pass.
"We were able to extend our order cut-off until 8pm on the 23rd for collection on Christmas Eve and saw last minute customers take advantage of the convenience this provided. The number of parcels sent into our John Lewis and Waitrose shops were up 30% on this time last year."
Lewis said clearance "got off to a flying start online" on Christmas Eve, and on Christmas Day orders were up 19% with sales peaking at 9pm as customers shopped from their mobile while watching Downton Abbey on the TV.
"The fall of the calendar is such that we would expect to see some of this clearance demand fall into next week's numbers, so we will need to review progress over a longer time-frame, however early indications are that our bargains in the key areas of furniture and textiles are being warmly received by customers."
Waitrose sales soar
Waitrose said demand for festive food and champagne helped sales excluding fuel soar 17.4% during the Christmas period.
Sales of champagne shot up 14% for the two weeks to December 27 compared with the previous year. Sales of sparkling wine and whisky were up by 20% and 22% respectively.
Sales of table stationery, including napkins and tablecloths, jumped 24% on the year, while baubles and decorations soared 143%. Crackers were also popular with sales up 13%.
Within food, sales of turkey rose 10.9% while frozen lobster was another popular choice with sales surging 51%.
Waitrose said sales of Christmas cards rose 21%.
The grocer said further figures for the Christmas trading period will be announced on January 6.