What's in a name? In the case of upmarket northern grocer Booths' first ever chief executive Chris Dee, the answer is "plenty".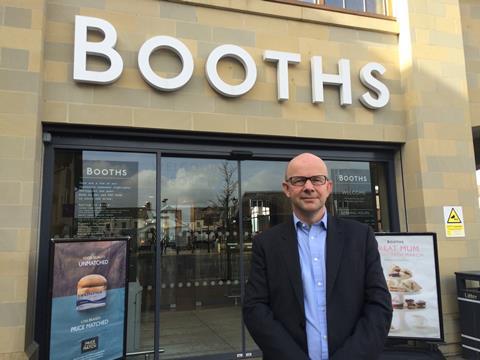 As supermarket giants Tesco and Morrisons revealed high-profile changes at the top in February with the appointments of John Allan and David Potts respectively, Dee was busy getting his feet under the table at Booths.
But his appointment to the newly-created role last month raised many an eyebrow, because he became the first person without the surname Booth to take up a senior leadership role.
It is a landmark step in the life and times of both Dee and for Booths as a retailer, but it is a far cry from his start at the grocer.
Sipping a coffee in the cafe at the Booths store in Garstang, Preston, Dee recalls his humble beginnings at the retailer 20 years ago.
"When I joined I had no intention of staying"

Chris Dee, Booths
Having left school and decided against higher education, Dee pursued his keen enthusiasm for wine, buying and selling fine wines in London. He soon moved back to his birthplace in Yorkshire, setting up a small chain of wine shops in Leeds and Bradford, which he later sold. It was then, in 1995, that he was invited for an interview to become a wine and spirits buyer at Booths.
"When I joined I had no intention of staying," Dee admits with a wry smile. "I remember sitting in reception about to go for my interview thinking: 'this is a temporary thing. This is not what I'm going to do. I'm going to go back and open my own shops again.' It was a stop gap, but 20 years later, I'm still here."
Store openings
Dee has since followed a similar path to the one trodden by executive chairman Edwin Booth, who went on to become marketing director and chief operating officer by 2012. Then, last month, Dee was unveiled as Booths' first ever chief executive, hand-picked by his mentor to drive the business through a key period in its history.
It aims to open five new stores this year, taking its portfolio from 29 to 34.
"Plenty of people don't know anything about us or have never heard of us, and we don't really care"

Chris Dee, Booths
"I feel very honoured to have this role at a business that is a genuine jewel in the crown of British retail," Dee says proudly. "It's tucked away in the north of England doing its own thing – plenty of people don't know anything about us or have never heard of us, and we don't really care.
"We're not on some grand expansion plan. We're opening more stores this year than we've ever opened before, but there's every chance next year that we won't open a store at all – it's just the way things have fallen.
"In my lifetime I do not think we will be anything but a northern retailer. I have no intention of opening stores outside the North. We are in four counties and there is a lot of scope, particularly in Yorkshire and Cheshire, for expansion, so we can still open a fair few stores without our geography changing."
Online expansion
Ruling out nationwide store expansion in one breath, Dee reveals he is keen to open up Booths' online offer to the whole of the UK in his next. The retailer managed it to good effect during the Christmas period and a key part of Dee's strategy is to make nationwide delivery a permanent fixture.
In-store, his focus is on remaining "at the forefront of British grocery retailing" when it comes to Booths' offers on fresh meat and fish, fruit and vegetables and bakery, drawing inspiration from specialty food shops and markets rather than attempting to "imitate" the big four – an exercise Dee labels "pointless".
But the York City FC supporter is relishing the prospect of going up against his "Premier League" rivals.
"We are the Conference non-league club trying to take on the Premier League titans"

Chris Dee, Booths
"By rights, Booths shouldn't have survived in the context of the industry that we sit in," he suggests candidly. "We don't have the scale to compete, we don't have the geography to compete. We shouldn't be here if all that mattered was the size and profitability of your business.
"But I wake up every morning and think: 'I am competing with some of the best grocery retailers in the world.' We are the Conference non-league club trying to take on the Premier League titans and I love that whole sense of David and Goliath about it. That keeps us going."