Hotel Chocolat boss Thirwell says floatation marks "a coming of age" for the retailer
He says the business will focus its store expanion plans on the UK
Retailer will also invest in new machines, apprenticeships and staff training to improve productivity
But international expansion is not on the agenda for "a few years"
Hotel Chocolat co-founder and boss Angus Thirlwell has hailed the retailer's intention to float as "a coming of age" for the business.
The chocolatier said it expects to place proceeds of around £50m from issuing new shares and the sale of existing shares, when it lists on the London Stock Exchange's AIM within the next three months. That would give the retailer a market cap of around £150m.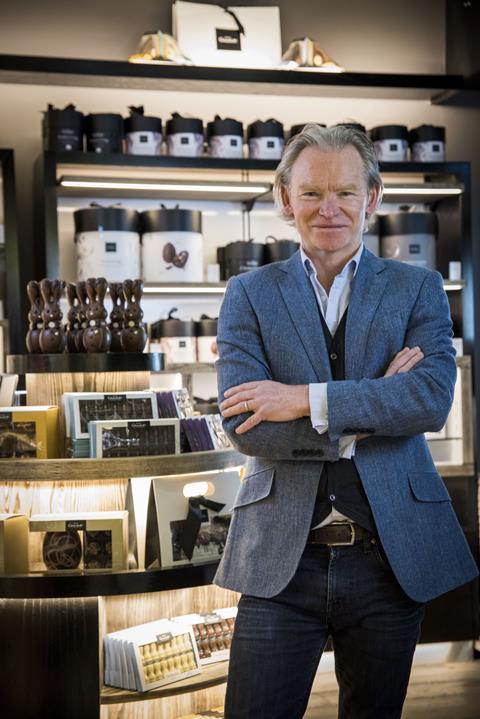 Thirlwell, who founded the business alongside Peter Harris back in 1993, said the timing was right to take the chocolate producer and retailer public in a bid to "accelerate" its expansion plans.
He told Retail Week: "It takes a number of years to build a brand – we were looking for a certain level of resilience in the business model and when you are a new brand it takes a few years to get to that point where you are professional enough to consider something like a listing.
"It's a coming of age for Hotel Chocolat. We are skilful at what we do, the business is full of really good talent, we are able to achieve wonderfully with that talent and more importantly with the loyalty of our customer base.
"The other dimension is looking outside into the market and asking 'where are the opportunities for Hotel Chocolat?' Our innate sense is that there are big opportunities for us and we should push a bit harder."
Private equity interest
Thirlwell admitted he received approaches from a number of private equity firms, but said a float provided "a good balance" between maintaining a long-term view of developing the business and being able to access development capital.
He added the decision to float "was not about anything other than protecting the brand and the way it develops for the long term."
That development will see Hotel Chocolat concentrate on building its UK presence, where it has 81 stores, by increasing its manufacturing capacity, relaunching its website and opening new stores.
"Our innate sense is that there are big opportunities for us and we should push a bit harder."

Angus Thirwell, Hotel Chocolat
Thirlwell said there was "a considerable opportunity" to increase its estate in its home market, adding that Hotel Chocolat would continue to roll out a host of formats including its flagship restaurant/cafe model, its cafe and shop format and compact travel retail sites.
"We see a good opportunity to continue to develop across all our formats in a judicious, balanced way," Thirwell said.
"That balance has been integral in the way that we have developed those different-sized formats in different locations, suitable for different catchments and demographics. Weaving that tapestry is what the fun is going to be about in the next decade."
The retailer will also invest in "clever chocolate-making machines" and apprenticeships and training, allowing it to raise the productivity of its manufacturing centre in Huntingdon and bring new products to market quicker.
International ambitions
Further cash will be ploughed into its new website, which is due to launch in the summer. As revealed by Retail Week, the ecommerce platform will allow it to reach out to new regions across the globe starting with Scandinavia, where it already has three stores in Danish capital Copenhagen.
But Thirlwell insisted it would be a "few years" before Hotel Chocolat considers launching into other overseas markets.
"For the next few years, the story is all about developing more in the UK," he said.
"Once we become match-fit in Denmark, we believe we will have a significant competitive advantage over our competitors"

Angus Thirlwell, Hotel Chocolat
"There is no big rush for us – we know there is a huge opportunity out there for us in the rest of the world.
"Once we become match-fit in Denmark, we believe we will have a significant competitive advantage over our competitors, which we can then deploy, in a very exciting way, into big international markets.
"The US is one of the large opportunities in the future of Hotel Chocolat, but we are several years away from deciding which international market we want to go to next.
"It's a good idea for us to be building up our skills and getting really good at them, so that when we are ready we can do a major market and do it properly."