Dave Howarth, manager of Sainsbury's store in Sale, was awarded the Michael Page Retail Store Manager of the Year prize.
Our winner defines what leading from the front means.
Former military man Dave Howarth, manager of Sainsbury's store in Sale, outside Manchester, can often be seen helping pack bags for customers on a Friday afternoon.
"I like to do it to have a chat with people and keep in touch with our customers"

Dave Howarth
Not afraid to get his hands dirty, he sees it as an opportunity to get a real feel for what his customers are thinking. "I like to do it to have a chat with people and keep in touch with our customers," he says.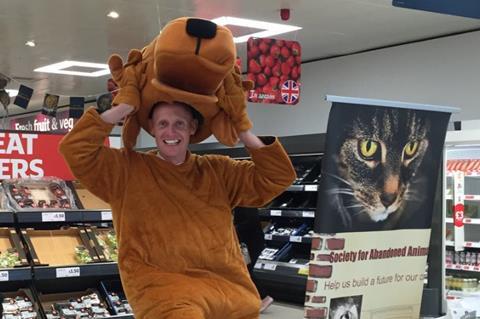 Howarth also uses some of his cheeky charm on occasion, if he notices shoppers have already been to a discount rival nearby.
"I might sometimes tell them they could have got something cheaper on a deal at our store," he says.
Mucking in
That kind of hands-on attitude has helped the football and gym enthusiast to deliver fantastic results at his store. During his time in the armed forces, Howarth worked under some inspirational leaders and it was that experience that set him up to lead from the front in retail.
Time spent as a regional transport manager has also helped to give Howarth an understanding of Sainsbury's supply chain operations.
His personal touch, curious nature and fun-loving attitude have all helped to foster a family feeling among staff. He believes in developing an environment in which his whole team can flourish.
Howarth has led the store through a full refurbishment, which included recruiting 50 extra employees. Since the refit, under his leadership, the store has risen from near the bottom of Sainsbury's regional rankings to close to top.
Guided by Howarth, his staff's collective commitment to customer service has helped the Sale store to lift its colleague engagement score by 16 points, giving the shop one of its highest-ever scores.
Under his tutelage, a dozen members of his team have risen through the ranks to take on managerial roles in the store.
Charity work
Away from the coalface, Howarth has also been at the forefront of fundraising in conjunction with local charities. As a result of Howarth and his colleagues' efforts, money was raised to fund the installation of three defibrillators in local schools and the training of more than 100 pupils and teachers in life-saving techniques.
Howarth impressed judges with his engaging and sincere style and apparent ability to connect with people from all walks of life. Driving sales in a demanding grocery market is no mean feat.
Sainsbury's has unearthed a great manager – and with Howarth's drive and commitment, a continuing bright future in retail seems assured.
He is a consummate ambassador for the Sainsbury's brand.
Michael Page Retail
Established in the 1990s, Michael Page Retail is the largest retail specialist recruiter in the UK. Our team operates from a number of offices across the UK, offering truly national coverage. Our consultants are each focused on key job roles and their previous experience is within the industry so they are able to truly understand the market. Key areas include buying, merchandising, supply chain, ecommerce, store operations, visual merchandising, product design and technical development. We build long-term relationships with our clients – this allows us to not only source the right people for their needs but add genuine value to them in the form of industry insight. Michaelpage.co.uk