The grocery market has fallen into decline for the first time since Kantar Worldpanel records began in 1994 as sales slid 0.2% compared to the previous year.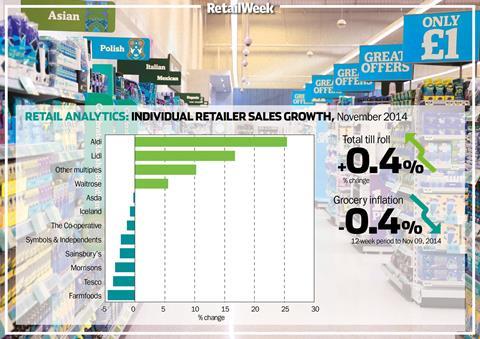 Kantar Worldpanel head of retail and consumer insight Fraser McKevitt said: "The declining grocery market will be of concern to retailers as they gear up for the key Christmas trading season.
"The fight for a bigger share of sales has ignited a price war which means an average basket of everyday goods such as milk, bread and vegetables now costs 0.4% less than it did this time last year. This is bad news for retailers, but good news for shoppers with price deflation forecast to continue well into 2015."
For the 12 weeks ending November 9, the discounters performed strongly again. Aldi sales are 25.5% higher than last year and it now has a record high market share of 4.9%. Lidl reported a 16.8% sales increase with its share growing to 3.5%.
Waitrose is also growing at the other end of the market, with sales growth of 5.6% taking its share to 5.1%.
Asda recorded the best performance among the big four. Its sales have fallen in line with the overall market and share has held steady at 17.2%. Sainsbury's and Morrisons have both recorded a decline in share compared with last year, with sales down 2.5% and 3.3% respectively. Tesco's sales are down by 3.7% although the rate at which it is losing market share has slowed.
12 weeks to Nov 10 2013
12 Weeks to Nov 09 2014
£000s
%*
£000s
%*
Total till roll
32,342,640
32,464,300
Total grocers
24,915,760
100.00
24,876,830
100.00
Total multiples
24,395,710
97.91
24,368,930
97.96
Tesco
7,427,304
29.81
7,149,309
28.74
Asda
4,276,248
17.16
4,266,454
17.15
Sainsbury's
4,186,914
16.80
4,082,849
16.41
Morrisons
2,855,745
11.46
2,762,896
11.11
The Co-operative
1,574,040
6.32
1,553,987
6.25
Waitrose
1,201,202
4.82
1,268,506
5.10
Aldi
961,395
3.86
1,206,706
4.85
Lidl
751,201
3.01
877,031
3.53
Iceland
491,597
1.97
487,689
1.96
Farmfoods
173,905
0.70
166,145
0.67
Other multiples
496,157
1.99
547,358
2.20
Symbols & independents
520,051
2.09
507,898
2.04
*Percentage share of total grocers