The accountancy watchdog has dropped its investigation into Tesco's former finance boss Laurie McIlwee, two years after its accounting scandal.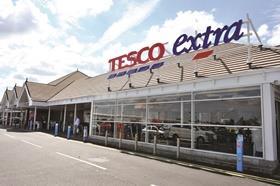 The Financial Reporting Council (FRC) has cleared McIlwee of wrongdoing following a probe into the actions of Tesco's finance team and its auditor, PwC, after a £263m black hole was discovered in the grocer's accounts in September 2014.
"Tesco had artificially inflated the profit figure reported to the City in August 2014 by around £118m"
McIlwee exited the supermarket giant in April 2014, five months before new chief executive Dave Lewis was made aware of the profits overstatement.
The FRC launched its probe back in December 2014, but has now closed the investigation into McIlwee after concluding there was "no realistic prospect that a tribunal would make an adverse finding" about his conduct.
It means McIlwee is unlikely to face any action and can now seek a new role, having not been in full-time employment since departing Tesco more than two years ago.
However, PwC remains under investigation by the FRC, while the Serious Fraud Office (SFO) is also continuing to look into the scandal.
Former Tesco boss Philip Clarke was interviewed by the SFO under caution last year. McIlwee is also thought to have been interviewed as a witness, but the SFO is yet to reveal the findings of its investigation.
Scrutinising Tesco's business practice
Details of the accounting scandal were revealed just weeks after Lewis was parachuted into the grocer in a bid to turn the business around.
Lewis was made aware of a problem in Tesco's accounts by a whistleblower, prompting Deloitte to take a closer look at the grocer's balance sheet.
It emerged that Tesco had artificially inflated the profit figure reported to the City in August 2014 by around £118m, with similar practices also taking place during previous reporting periods.
That took the total shortfall in profits to £263m.
Former chairman Sir Richard Broadbent stepped down from his role following the scandal, and Tesco later agreed to pay $12m to US holders of American depositary receipts (ADRs) to end their legal action against the grocer.
In April last year, Lewis vowed Tesco would "behave our way out" of trouble in the wake of the profits overstatement.
The supermarket giant has since returned to full-year profit following a £6.4bn loss for the year ending February 28 2015.