Discounters Aldi and Lidl now account for more than 10% of all grocery sales, according to Nielsen figures released today.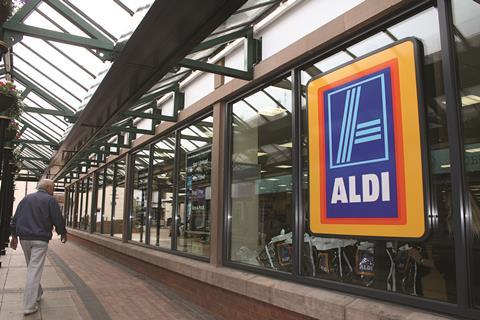 Morrisons was the only big four supermarket to increase sales in the four weeks ending January 31 as shoppers continued to flock to the discounters.
Aldi's sales rocketed 17.3% year on year in the 12 weeks ending January 31, while Lidl's jumped 13.8% in the same period according to Nielsen data.
It meant that £1 in every £9.31 spent in supermarkets went to the discount duo.
Aldi and Lidl now hold a combined 10.7% market share, up from 9.3% in the same period last year.
Analysts say their success has been driven by "astute" promotion of the "quality of their offerings".
Nielsen's UK head of retailer and business insight Mike Watkins said: "The 10% market share for discounters has not been seen since the heyday of Kwik Save some 15 years ago.
"Initially built on the premise of saving money, the new wave of discounters are now a regular part of grocery shopping and have changed shopping habits forever. For instance, switching to cheaper grocery brands is again the No 1 household tactic for saving money.
"Furthermore, nearly half of those cutting costs will continue to buy cheaper grocery brands even when economic conditions do improve.
"However, what is different this time is that discounters are no longer solely associated with price. They've been very astute at promoting the quality of their offerings to appeal to a wider range of consumers."
Supermarket sales
In contrast to Aldi and Lidl's booming figures, total supermarket sales rose just 0.7% during the 12-week period.
Sales by value for the UK's big four supermarkets during the four weeks ending January 31 fell 0.1% year on year. Sales volumes rose 1.7%.
Morrisons was the only big four supermarket to increases sales during the period. Nielsen said Morrisons' increase was driven by an increased spend-per-visit and by attracting new shoppers.
Watkins added: "This indicates that the launch of their loyalty price match card 'Match and More' is having a positive impact on trading performance."
Percentage share of grocery market spend, by retailer
| | 12 weeks to January 31, 2015 | 12 weeks to February 01, 2014 | % sales change |
| --- | --- | --- | --- |
| Tesco | 27.7% | 28.2% | -1.2% |
| Sainsbury's | 16.3% | 16.7% | -1.6% |
| ASDA | 15.9% | 16.3% | -1.9% |
| Morrisons | 10.8% | 10.8% | -0.2% |
| Aldi | 5.8% | 5.0% | 17.3% |
| Co-operative | 5.1% | 5.2% | -0.9% |
| Lidl | 4.9% | 4.3% | 13.8% |
| Waitrose | 4.4% | 4.1% | 7.7% |
| Marks & Spencer | 3.3% | 3.2% | 1.5% |
| Iceland | 2.2% | 2.2% | -2.7% |