As more and more customers turned to online shopping, Waitrose and Partners' latest Food and Drink Report highlights that Britons made more use of fast delivery services in lockdown, with heightened demand for Fairtrade or organic products and wine.
According to the report, 77% of Waitrose customers now do at least part of their grocery shopping online, compared with 61% last year, while one in four now do their food shopping online at least once a week, double the figure in 2019.
Waitrose executive director James Bailey said that "shopping behaviours have changed profoundly" due to the lockdown.
He continued: "Even before the Covid-19 pandemic, there are few retailers that wouldn't have predicted the continued growth of ecommerce relative to physical shops."
"But what would have previously been a gradual upward climb in demand has – with the outbreak of Covid-19 – turned into a trajectory more reminiscent of scaling Everest.
"The growth curve representing the uplift in customer demand has been steep and rapid, challenging all retailers' resources. Businesses have been forced to speedily face into the ascent and scale up their operations or face a slippery slide downwards. Because online shopping quickly becomes habitual these changes are unlikely to reverse."
Delivery expectations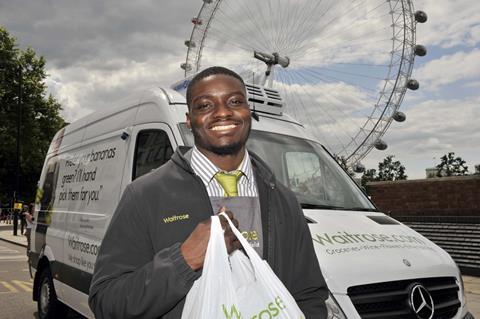 While supermarkets have remained open throughout the lockdown period, many customers have chosen to stay at home, with two thirds of Waitrose customers saying they have shifted to online shopping in order to avoid stores.
More than 40% of customers say that online is the most convenient option overall. This cohort say they are particularly pleased that it means "someone else carries the bulky stuff" into their homes.
While Waitrose has added more than 100,000 delivery slots to its website per week, demand for its Waitrose Rapid service soared during lockdown.
The delivery option, which allows customers to order up to 25 items to be delivered within two hours, tripled customer numbers during the pandemic to 23,000.
The retailer found Friday is the most popular day for orders and deliveries, and some of the most popular products are breakfast items like eggs ordered late on Saturday evening or alcohol ordered before midday to be delivered later the same day.
Wine and recipe kits
During the pandemic, Waitrose saw a 238% increase in the number of Cellar orders, with wine being the most popular alcoholic beverage ordered online.
Some 17% of customers bought more wine during lockdown, citing the wider online selection and the fact that they didn't have to carry it themselves as the primary reasons for this.
Waitrose has also seen a spike in the number of customers experimenting in the kitchen.
According to Google data, 2.3 million people were looking for "healthy recipes" in June 2020, while 2.1 million searched for "vegan recipes".
"Lockdown has seen some interesting trends for recipe searches, with lots of people searching for ideas for their herb gardens, 'grow your own' inspiration and lunch ideas," explains Waitrose digital content and design manager Kirsty Rolfe.
"Comfort food recipes and baking were also huge trends for the first half of 2020, as people got stuck into learning new skills at home and making delicious, uplifting food."
Consequently, the grocer saw an increased demand for its Cooks' Ingredients products in online shopping orders – the most popular being garlic and red chillies, or cornflour and baking powder for home baking.
Conscious consumers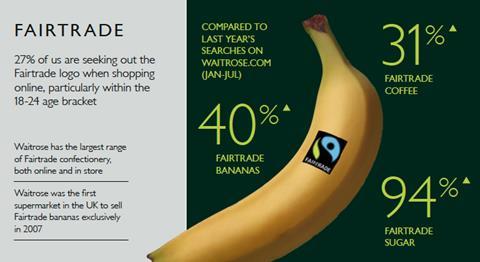 Despite the pandemic, with all the stresses and worries that has brought, Waitrose said that the rise of the sustainability-minded consumer has continued during lockdown.
"With 44% of us actively seeking out products online with less packaging, and searches for the food waste page on Waitrose.com up 94% compared to last year, it's clear that many of us are becoming increasingly aware of our impact on the environment and how sustainable we are within our own homes," says Waitrose head of corporate responsibility George Leicester-Thackara.
Waitrose also found that 27% of consumers are more actively seeking local British produce when doing their online shopping order. Searches for British chicken were up 289% from January to July compared with 2019. Searches for British beef skyrocketed, increasing 889% in the same period year on year.
Fairtrade products such as bananas, coffee and sugar were also high on Britons' online shopping lists, with searches for the Fairtrade logo up 27% compared with the period from January to July last year.
The retailer noted that Fairtrade is particularly popular with shoppers aged 18 to 24.
Channel shift or lockdown blip?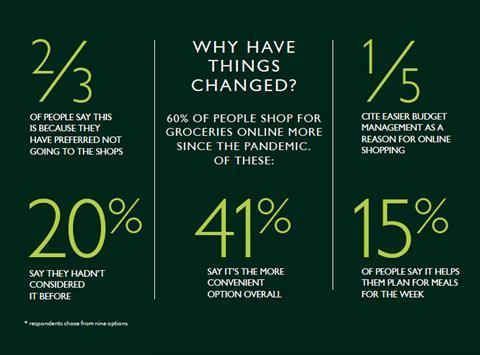 Online grocery shopping has seemingly become more ingrained in how Britons shop, according to Waitrose, and has likely reached a tipping point.
Post-Covid-19, 19% of customers told Waitrose they will use a wider variety of online services such as rapid delivery and click and collect, while 40% said they will shop for groceries online more frequently in the long term, compared with pre-pandemic levels.
A quarter of respondents also said that they will make bigger online grocery orders in future.
As the online shopping boom buoys Waitrose, the grocer has placed bets on its continued growth – increasing its online delivery slots, adding to its delivery fleet and opening its new Greenford fulfilment centre to better serve its London customers.