Food-delivery services including many start-ups are racing to compete in the on-demand grocery market, but profitability is likely to be some way off.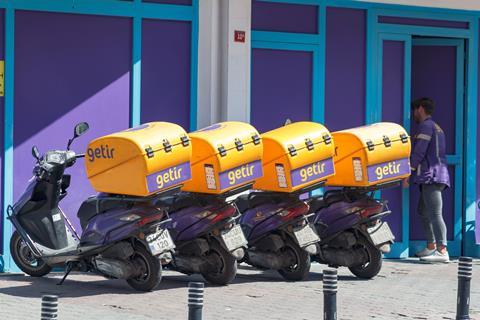 Analysis by Bain & Company shows such start-ups "face a challenge reaching profitability because they have not yet achieved scale economics, and they require making significant marketing investments to acquire and retain new customers in their launch phases".
(EBIT% estimates based on revenue = basket value + 5% price mark-up + delivery fees; costs including COGs (65%); supply chain costs including wastage; unit costs = picking, delivery, dark-store rent + refurbishment; customer acquisition costs; fixed costs=marketing, tech, G&A, customer service; excluding supplier financing)
Strategic options include "racing to become the sole survivor where they currently operate, entering unclaimed geographies and winning the first-mover advantage" or mergers with other quick-commerce or food-delivery aggregators and selling up to established grocers.
Broadening products to higher-margin and small-pack-size categories such as pharmacy or cosmetics is also an option.
Bain & Company retail practice senior partner Jonathon Ringer said: "The economics of online grocery have always been challenging versus store retailing, but the economics of the new 'on-demand' models are even more demanding.
There is a rush to put down capacity and acquire customers at the moment, but the path to profitability is far from clear.
He said target capacity was some way off and observed: "In this growth phase the unit economics are very ugly.
"The market needs to mature for the economics to improve. Customers need to repeat purchase without the same level of offers and deals, order values need to increase, capacity needs to be better utilised and charges probably need to go up. We are not in that phase yet."
In recent months big names such as Tesco, the Co-op and Sainsbury's have upped the ante in rapid delivery as they seek to win share of the emerging market – a shift reflective of factors such as single households that seek the online equivalent of convenience shopping.
Retailers have teamed up with specialist providers including start-ups or piloted their own services such as Tesco's Whoosh.
Rapid delivery is increasingly being adopted beyond grocery. Electricals giant Currys unveiled a pilot with Uber last week, and Superdrug launched a service with Stuart this week from 300 stores offering delivery within two hours.