The Co-op has returned to growth for the first time in a year and Sainsbury's has reclaimed its position as the second biggest grocer from Asda.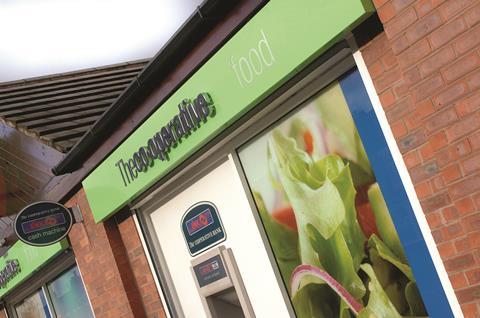 Co-op sales rise for the first time since July 2014
Sainsbury's reclaims spot as UK's second biggest grocer from Asda
Aldi and Lidl both hit new market share highs as sales rise again
New data from Kantar Worldpanel revealed that the Co-op's sales rose 1% in the 12 weeks ending July 19 – the first time they have increased since July 2014. That helped its market share edge up to 6.3% compared to 6.2% in June.
It means the Co-op has continued its momentum from last month, when sales held flat. That marked the first time in four years that the mutual had outperformed its grocery rivals, as other retailers suffered sales declines.
Kantar Worldpanel head of consumer and retail insight Fraser McKevitt said: "The Manchester-based grocer's focus on its convenience offer has been rewarded with an increase in shopper numbers, which have risen by 133,000.
"While the Co-operative's growth is slightly ahead of the market, its overall share of 6.3% has remained the same as last year."
Big four
Sainsbury's suffered another fall in sales of 0.3% during the period ending July 19, but it still reclaimed its position as the UK's second largest grocer for the first time since January, driven by non-food sales and the performance of its c-store business. Asda slipped to third place after its sales dropped 2.7%.
Sainsbury's market share of 16.5% just trumped Asda's 16.4%, which has fallen from 17% on the year.
An Asda spokeswoman said: "We're going through one of the toughest trading periods to face UK supermarkets, so it comes as no surprise that industry figures continue to be volatile from month to month.
"As a strong and balanced business we remain focused on our long term strategy for building a sustainable business over the coming years. We won't make knee jerk decisions because of the short-term picture."
Morrisons was the best performer among the big four, despite sales slipping 0.1%. Market leader Tesco suffered a 0.6% dip in sales but retained the top spot with a 28.5% share.
Smaller retailers grow
Kantar said growth has "accelerated" at Waitrose, where sales jumped 3% during the period off the back of its Pick Your Own Offers initiative. That helped push the upmarket grocer's market share up to 5%, an increase of 0.1 percentage points compared to last year.
Iceland's sales also grew 3% driven by its 'Power of Frozen' advertising campaign.
Discounters Aldi and Lidl both continued their growth, as the German duo's sales increased 16.6% and 11.3% respectively. It meant both can now boast new market share highs of 5.6% and 4%.
Aldi joint managing director, buying, Jonathan Neale, said: "We continue to be the UK's fastest growing grocery retailer through a simple combination of offering the best products at unbeatable prices.
"The investments we have made to broaden the depth and quality of our range continues to attract new customers. In the last 12 months we have introduced more than 150 new premium lines and we have seen year on year sales growth of 45% in our Specially Selected range.
"During the recent heatwave we saw a surge in sales for our premium summer lines, including a 20% increase in sales of fresh meat products."
Overall grocery sales increased 0.8% on the year. Kantar said "stronger growth" was being enjoyed by "smaller retailers."
McKevitt added: "The continued slow growth of the overall market can be explained by minimal volume growth and lower like-for-like prices, both as a result of cheaper commodity prices and the fierce competition between supermarkets.
"Comparable groceries are now 1.6% cheaper than a year ago, meaning prices have been falling since September 2014, although they are projected to start rising again by early 2016."