Co-op boss Richard Pennycook hails group's momentum
He refuses to rule out an online grocery launch
Food boss Murrells signposts success of own-label ranges
Murrells warns rivals there are "more price cuts coming"
Co-op boss Richard Pennycook has insisted "the momentum is with us" as he refused to rule out launching an online grocery proposition.
The mutual's chief executive lauded a "year of real progress" across the group, driven by the performance of its core food business.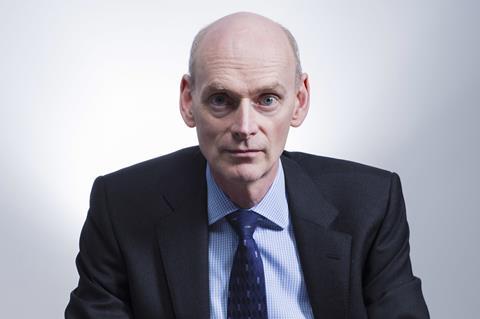 The group reported a pre-tax profit of £23m for the year ending January 2, down from £124m in 2014, but its food business posted a 3.3% uplift in operating profit to £250m on sales of £7bn.
"It's been a year of real progress," Pennycook said. "There is still much to do, but after one year of the three years of our Rebuild plan, definitely the momentum is with us.
"Looking into this year, we can see that trading continues to be in line with our expectations and that is evidenced by the recent Kantar market report, which shows that trading is industry-leading in our food business."
Digital strategy
Pennycook refused to rule out the prospect of growing the rapidly improving food business further by extending its reach into ecommerce.
The Co-op admitted it was "lagging behind" its rivals in the way it operates online and through social media.
The mutual has drafted in Mike Bracken as chief digital officer and said his team is drawing up a strategy designed to "catch up fast and then leap ahead of our rivals."
Asked whether that plan would include an online food offer with home delivery options for customers, Pennycook said: "At the moment our online business, which is a very good small business, is electricals and that's a business we are keen to continue to grow.
"We've recruited a new team under Mike Bracken to bring the Co-op into the 21st century in terms of digital."

Richard Pennycook, the Co-op
"We've recruited a new team under Mike Bracken to bring the Co-op into the 21st century in terms of digital.
"That is something that we are working on in terms of our strategy at the moment.
"That hasn't yet been presented to the board, so we can't comment on where we will go with our digital activities.
"But certainly it's great that we sit here with a small but very good business to build from."
Own-label success
Co-operative Food boss Steve Murrells added the division's sales growth during the year had been driven by the success of its own-label ranges, which he dubbed a "great secret of the Co-op."
"Our focus over these last two years has been to get customers to fall in love with own brand again," Murrells said. "The quality that we are now achieving in our fresh ranges, we are very pleased with.
"We are doing exactly the same thing in our own-branded ambient grocery ranges and we think once that work is finished this year, we will be offering really excellent food that is as good – and in many cases much better – than others.
"You will see more price cuts coming."

Steve Murrells, the Co-op
"It's one of those great secrets of the Co-op, so we will talk a lot more about our own-brand quality this year."
Murrells said the Co-op would close "50 to 100" of its underperforming stores this year and open 100 new shops.
Despite that store rationalisation programme, he warned its convenience rivals that the mutual would continue to plough investment into lowering prices.
Murrells said: "Most recently we made a further investment in our meat and protein area of approximately £30m.
"We hope to be close to a £200m investment over the course of the last two years by the end of this year, so you will see more price cuts coming."