French grocery giant Carrefour's like-for-likes jumped 2.3% in the first quarter, driven by improvements at home and growth in Latin America.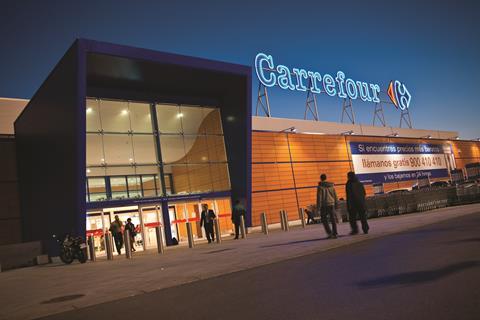 Revenues during the first three months of the year hit €21bn (£15.16bn) after like-for-like sales excluding fuel in France rose 2.5%. Sales in the country accounted for around half of the group's overall total.
In its Hypermarkets, which account for around a quarter of group sales, like-for-likes to March 31 grew 2.1%, following drops in the previous two quarters.
The results come off the back of the retailer revealing a 6.7% jump in full-year profits during 2014, driven by its "back to basics" turnaround strategy. But analysts have warned the transformation of the grocer is not yet complete, and claim bosses have "stopped the bleeding."
Carrefour has been battling to win back shoppers who have turned their backs on the grocer in favour of etailers and local shops. Boss Georges Plassat has quit several emerging markets to focus attention on the domestic business.
"While the patient is out of the emergency ward, it is now in the sick ward and we do not see its return to rude health yet."

Bruno Monteyne, Bernstein
But Carrefour's performance in other European countries also improved, as like-for-likes increased 0.9% during the period. Its international business also improved as like-for-likes rose 2.2% compared with the same period in 2014.
Stores in Latin America led the way as like-for-like sales jumped 12.5%. That was driven by an 8.4% increase in like-for-likes in Brazil.
Those figures compensated for a weak quarter in Asia, where sales plummeted 11.3%.
Bernstein analyst Bruno Monteyne said the "excellent performance" had "stopped the bleeding" but warned that Carrefour chiefs still had more work to do.
Monteyne said: "Our view is that Carrefour remains structurally challenged, with unattractive formats in unattractive countries. It is still too dependent on hypermarkets in France, Western Europe and China.
"The turnaround plan has stopped the bleeding and improved the business in France.
"While the patient is out of the emergency ward, it is now in the sick ward and we do not see its return to rude health yet."