Asda boss Andy Clarke expects to deliver growth over Christmas despite tough conditions, but has cautioned that a two-speed recovery could hamper the revival.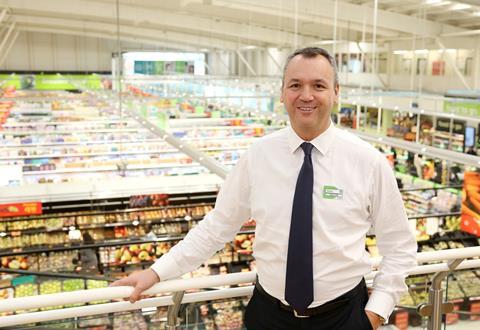 Clarke made the comments today as he revealed a 0.5% like-for-like increase in Asda's second quarter.
He said that over the critical Christmas peak he was "expecting to get growth, but it will be very challenging". "Some people will win more than others," he said.
He said sections of the country, including Northern Ireland and parts of the north, are suffering from a slower economic recovery than London and the South East.
Clarke said: "The forward view of the economy is still very challenging. The level of disposable income is still hugely varied. We're very mindful of that."
Clarke said Asda's clear Everyday Low Prices (EDLP) policy propelled growth over the quarter, at a time when its big four rivals are reporting sales declines.
Clarke said: "We're pleased with the market-share growth in the quarter.
"We're differentiating now from the big four grocers. It's delivering volume growth. Moving away from gimmicks is something we are clear about. We're playing the long game. Our strategy is working."
He said Asda was "reinventing" its store estate, with plans to trial new elements in two superstores in the fourth quarter. He said the initiatives will ensure its proposition is "fit for the future".
Clarke declined to give details of the new initiatives but did say Asda was looking at expanding its health offer in larger stores. He also said Asda was in discussions with food and non-food partners about taking space in larger stores. "We're very open to working with partners, I think we'll see more of that going forward.
"It used to be about supermarkets, then it was about supercenters, now it's about super destinations."
Margins in its superstores were up 140 basis points in the quarter. "The margin we're seeing in supermarkets is giving us the confidence to expand the format," he said. "The biggest part of the business is coming from the store estate. They have an important part to play with growth of online."
Asda is also extending its relationship with Transport for London. Asda launched lockers on the London transport network this year.
The grocer offers click and collect across 400 sites at present, 300 of which can offer same day collection.
Clarke added that that price gap with the discounters is as narrow as it's ever been.
He told Retail Week that Sainsbury's tie up with Netto, which will see 15 of the Danish discounter's stores opening by the end of next year, was "interesting". But added: "I don't know what it says about [Sainsbury's] core price position."