The UK's second largest grocer Asda turns 50 this year. Retail Week plots the key moments in the supermarket giant's history.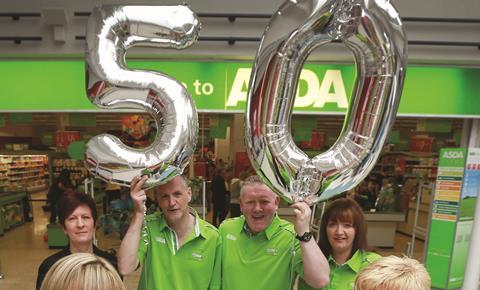 1949
Associated Dairies and Farm Stores is formed, with Arthur Stockdale as its managing director. Around the same time, Peter and Fred Asquith meet Noel Stockdale, Arthur's son – a meeting that would eventually lead to the formation of Asda.
1958
By this time, the Asquith brothers had opened and sold their first store and they'd caught the retail bug. They travel to the US on a fact-finding mission to visit Piggly Wiggly, one of the world's first service supermarkets.
1963
Having been inspired by their trip to the US, the Asquith brothers convert a former theatre in Castleford into 'Queens', the UK's first self-service supermarket. Soon after, they convert an indoor market into their second Queens store.
1965
Peter Asquith builds his first supermarket next to a large car park, while Queens expands to form a chain of self-service supermarkets. He approaches Associated Dairies to run the in-store butchery at Queens and Asda is born, with the first letters of Asquith and Dairies combining to form the now-famous name.
In the same year, Asda acquires the three large UK stores (all over 80,000 sq ft in size), that are owned by US discount retailer GEM at a huge discount, after Tesco and Sainsbury's both turned down the opportunity to buy them.
1966
To help fill the additional space in the former GEM stores, Asda becomes the first food retailer to offer general merchandise and the strategy works. Judith Smith, in Asda's Castleford store, becomes the first checkout operator to take £1,000 in a week.
1967
Peter Asquith introduces the first discount petrol station at Asda's ninth store in Halifax, after striking a deal with little-known Russian oil company NAFTA.
1971-1977
Asda appoints Peter Firmston-Williams as managing director to spearhead its plans for growth. He oversees expansion into the South, with new stores opening in Newport, Plymouth and Gosport.
1977
Asda launches its first 'Asda Price' TV advert featuring the 'pocket tap', which becomes so synonymous with the grocer that it becomes sign language for Asda.
1979
By the end of the decade, Asda has 80 stores totalling 3 million sq ft of retail space and has acquired businesses such as Allied Carpets and Wade's Furniture.
1981
Asda opens its 100th store, but Firmston-Williams leaves the business, to be replaced by John Fletcher.
1984
Fletcher leaves Asda after three years at the helm and is replaced by John Hardman. 'Asda brand' products enter development and within three years the range grows to 3,000 lines.
1985
Asda merges with the furniture company MFI, but it drains resources and offers little return, before being promptly sold in 1987 – the same year the grocer opens its Watford flagship store.
1988
Asda's new HQ in Leeds is opened by the then-Prime Minister Margaret Thatcher.
1989
George Davies is asked to produce a range of clothing and the George at Asda brand is born.
1991
Archie Norman joins Asda and in doing so becomes the youngest ever chief executive of a FTSE 100 company. Norman and his new senior team, which includes Allan Leighton, analyse the ailing business and draw up a radical new strategy in a bid to win back customers. The Values Stores and Dales formats are introduced to compete with continental discounters.
1995
Within four years, Norman, Leighton and the team have completed a remarkable turnaround, not only saving Asda, but returning it to the major force in UK retailing it was decades ago.
1998
Asda launches its online retail service with a dedicated depot in Croydon.
1999
In a shock acquisition, US retail giant Walmart buys Asda in a £6.7bn deal.
2003
The first George standalone store opens for business in Leeds. A year later, Asda overtakes M&S to become the UK's biggest clothing retailer.
2005
Andy Bond replaces Tony De Nunzio as chief executive as Asda expands into Northern Ireland after buying 12 former Safeway stores.
2007
Andy Clarke becomes chief operations officer, as the supermarket giant expands its online proposition by launching Asda Direct.
2009
Asda acquires International Produce Limited as it bids to source fresh produce directly and translate that into lower prices for customers.
2011
Asda acquires 136 Netto stores, converting them all into Asda supermarkets in just 31 weeks.
2012
The roll-out of click-and-collect services begins with the installation of Asda's first click-and-collect canopy in Queensferry.
2013
Under the guidance of its US parent Walmart, Asda brings Black Friday to the UK. Customers flock to supermarkets across the UK to pick up a host of bargains, including tablet computers for £49 and 32-inch LED TVs for just £99.
2014
Asda's click-and-collect roll-out finds its way to London Underground stations including Stanmore, Highgate, Epping, Harrow & Wealdstone, East Finchley and High Barnet.
2015
Asda opens its first high street store in Wealdstone and brings back the famous 'pocket tap' ad as it celebrates its 50th birthday.