Veganism is on an unstoppable rise – so when will one of the grocers open a dedicated format? Suzanne Bearne reports.
Just a decade ago, vegans were perceived as tie-dye-wearing, barefooted hippies.
Fast forward 10 years and veganism has gone mainstream. Popstars such as Ariana Grande and Miley Cyrus have emerged as fans of a plant-based diet, Greggs' vegan sausage roll was a sales sensation when it launched this year, and the number of vegans in the UK quadrupled between 2014 and 2018 to 600,000, according to The Vegan Society.
Notably, whether for health, environmental or moral reasons, more Brits are changing their eating behaviours and leaning towards a vegan diet – even if they're not full-time vegans. Interestingly, 92% of plant-based meals are eaten by non-vegans, according to Kantar.
Given this shift, supermarkets and brands have been scrambling to provide for this rising demographic. Last year Waitrose became the first supermarket to launch a dedicated vegan section; other retailers such as Iceland and Asda quickly followed suit.
But is a section alongside the meat offer enough or should the grocers be considering launching standalone vegetarian or vegan stores?
Pret's success
Not a grocer as such, but Holland & Barrett is set to seize on the opportunity, with the health food chain set to trial two vegan-only stores in order to boost its appeal to those ditching animal products.
Former chief executive Peter Aldis told The Guardian last year that the stores will stock about 1,000 products, including beauty products and foods such as vegan ice-cream and sports nutrition powders.
"We don't want to feel like a place for alternative hippies," he said. "We want vegan to become more mainstream and there are lots of very good reasons why it will."
Retailers need only to look at the success Pret has enjoyed with its Veggie Pret chain.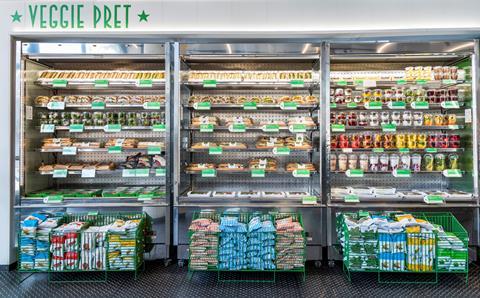 The veggie fascia started with a pop-up on Broadwick Street in Soho in 2016, which it launched after seeing massive sales growth in the category, according to Pret global head of food innovation Hannah Dolan.
"It was a good way to test the water. We pitched it as a pop-up for the summer but then actually we thought this feels like the way the market is going. More people are flexitarian and changing their diets. It was so popular that people were coming across London," she says.
Now Pret has four Veggie stores, including one in Manchester. But it has bigger plans ahead.
Dolan says the format has proven so successful that it is "looking at each of the Eat stores [they acquired] and looking to change as many as possible into Veggie Prets".
Is a dedicated fascia necessary?
Pret has certainly been a trailblazer, but should grocers follow suit?
There are some plus points for doing so. GlobalData Retail managing director Neil Saunders says it has the potential to "create great loyalty among vegan shoppers".
Kantar principal grocery analyst Derya Güvenc points out that although a vegan or vegetarian supermarket may sound niche, it could prove a success if the location and assortment are carefully chosen using shopper analytics.
However, Saunders does question the logic of only selling veggie or vegan products.
"First, it adds capacity into the market at a time when most food retailers want to reduce space to make their operations leaner and more efficient. Secondly, it would not necessarily create any new demand – spend would simply be transferred from existing stores; admittedly any retailer doing it might capture some share from others but I think, in the scheme of things, the gains would be minimal."
There might be a lesson to be learnt from Veganz, Europe's first vegan supermarket which opened its first store in Berlin in 2011 and operated 11 shops across the continent.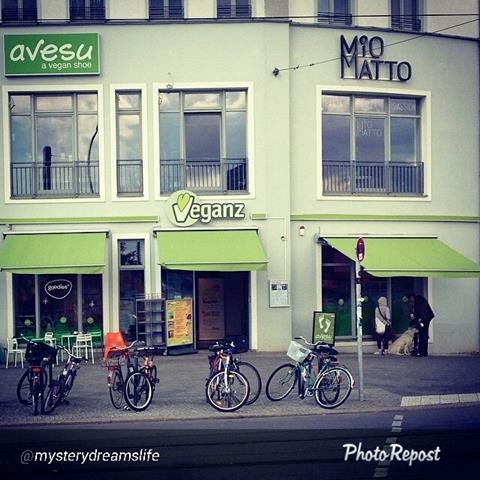 All stores included a vegan bistro and most of them were located near similar businesses, such as vegan restaurants and stores selling other vegan products.
However, by 2017 the company made the decision to close eight of the stores and focus on wholesale, showing that while veganism was on the increase, it was tough to sustain.
"At a certain point regular German supermarket chains called us and asked us if we can sell our products to them," says Veganz chief executive Jan Bredack. "The moment we started to deliver to the regular supermarket chains, there was no necessity any more for our specific stores and we closed them."
With three remaining stores in Berlin, Veganz now focuses on distributing its products to over 10,000 stores across Europe including Aldi.
Peter Link, editor-in-chief of vegan business magazine Vegconomist.com, believes people want a one-stop shop for all their food rather than a separate store.
"The major target group for vegetarian and vegan food for the industry and retail are flexitarians. They prefer to buy all their food at conventional grocers who offer more and more veggie products. Conventional grocers have broadened their vegan and vegetarian offer so there is no need for most consumers to go to a special vegan grocer."
Saunders believes that a more sensible and efficient approach would be for the big grocers to use space in existing stores to bolster their vegan and vegetarian offerings, which could include a shop-in-shop-type concept.
Location and assortment
However, if any were to eye up such a format, Kantar principal grocery analyst Derya Güvenç says that the location and assortment need to be carefully chosen.
"A full-vegan supermarket will need to look beyond just food to serve the vegan lifestyle successfully – from household cleaning products to baby diapers and clothing, each category should comply with the relevant vegan checklist, and preferably have some accredited logo rather than self-claim."
Such a format would work best in cities. "It would most likely be in an urban area where there is a high prevalence of vegans or vegetarians," says Saunders. "I can't see it working in traditional out-of-town locations.
"The format would also be more like that of a convenience store rather than a big box. However, the rents and property costs in such locations are high. That is a big barrier to entry."
Güvenç says grocers should test the waters with convenience stores in selected London neighbourhoods, rather than launching a new vegan-only format in order to expand and grow.
However, it appears the focus for retailers is to create new vegan products. Iceland head chef David Lennox says: "Our challenge is to take favourites that people really love, like the burger, and turning it into something that's actually really delicious but doesn't have any meat in it."
"I honestly don't think it would be a sensible move for any of the big players at the moment"

Neil Saunders, GlobalData Retail
But would they launch vegan supermarkets? "I wouldn't want to second guess. A vegan supermarket? I'm not so sure we would do it, but I'd definitely never say never."
It was a similar story at Waitrose, where a spokeswoman said: "Our vegetarian ranges are important to our customers and growing rapidly.
"However, we want to offer a wide choice – and have no plans to open an exclusively vegetarian supermarket."
Saunders believes this is the right approach: "I honestly don't think it would be a sensible move for any of the big players at the moment – I think they should focus on improving vegan ranges and offers in existing stores or bolstering their online presence in the space."