In today's turbulent and unforgiving retail market, some might suggest there is little room for experimentation.
The notion of 'test and learn' has often been replaced by a 'back to basics' approach, as embattled retailers batten down the hatches and battle through a period of fragile consumer confidence, sluggish wage growth, Brexit uncertainty and changing shopping habits.
Sainsbury's, however, is not one of those businesses.
Having acquired Argos and Habitat, ploughed cash into technological and digital innovation, and agreed terms on a proposed merger with Asda, Sainsbury's is tackling an uncertain future head on.
At Selly Oak, on the Southwestern fringes of Birmingham, the supermarket giant has brought that mentality to life.
Here, rather than being looked upon as something of a taboo, "experimental" is a Sainsbury's buzzword.
The retailer's latest supermarket, located merely a stone's throw away from its old store, undoubtedly represents an upgrade.
"This is an experimental store – it's not the store of the future"

Darren Sinclair, Sainsbury's
A host of new features including an Oasis concession, dedicated beauty zone, a health and wellness aisle, and a 180-seat Food Market combine to create a store that is a huge departure from Sainsbury's shops of the past.
An interactive and roomy toy department sits alongside a comprehensive homewares offer, where the Argos and Habitat propositions are blended with Sainsbury's Home products on the shopfloor, rather than being segregated by walls as shop-in-shops.
It means, for the first time since opening a clutch of mini Habitat shop-in-shops, the latest iteration of Sainsbury's allows shoppers to pick up Habitat product and pay for it at a Sainsbury's till at the same time they checkout the rest of their basket.
In total, 40% of the store's 67,000 sq ft have been devoted to non-food. The Oasis concession accounts for around 1,200 sq ft, roughly the same size as an average standalone Oasis store.
Although sales per square foot are expected to be lower in the general merchandise section of the store than they are in groceries – largely a result of stocking a lower volume of product – the idea is for customers to benefit from "browsing space" and "interactive" elements.
The toy section offers a perfect example, with enough floor space afforded to a Twister mat and giant spinning wheel, giving children the chance to play in-store – the sort of opportunity that is few and far between since the heyday in the early 1990s of Toys R Us, when kids could ride bicycles in the aisles.
Interactive screens alongside the shelves allow customers to watch video demos of selected toys without having to get them out the box.
New formats
It is a similar story in beauty, where power brands such as Maybelline, Rimmel, L'Oréal, Max Factor and Revlon are all given equal prominence rather than being made to compete for space.
Sainsbury's staff working in this area of the supermarket wear different uniforms – all black and emblazoned with 'beauty expert' – which make them easier to spot for customers seeking advice.
The impressive Food Market and accompanying 180-seat food court takes Sainsbury's hospitality and catering credentials to another level.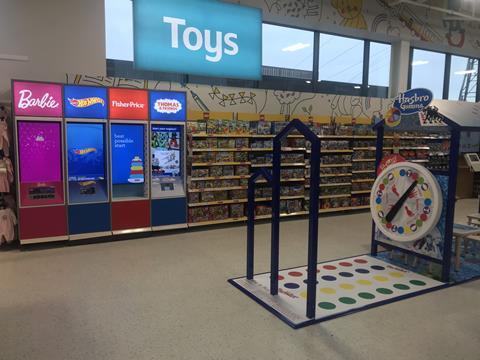 The creators of Sushi Gourmet – which operates a concession here opposite the counters at the back of the store – have worked with Sainsbury's to launch two new catering formats, Little India Kitchen and Wok Street.
Those ingredients combine to create a well-rounded food, general merchandise and hospitality proposition reminiscent of a department store.
Is that what Sainsbury's is ultimately becoming? After all, boss Mike Coupe now refers to Amazon and John Lewis when naming the retailer's principal competitors, alongside long-established rivals such as Tesco, Morrisons and the discounters.
Darren Sinclair, who oversees 550 Sainsbury's stores as zone managing director for the Central region, baulks at the comparison.
"No, definitely not," he insists. "We are absolutely a food business but we also have a complementary non-food offer."
But he does admit that inside a supermarket that has been more than 10 years in the making, the finished product has "evolved very recently" to include such a prominent non-food presence.
Sinclair says the Selly Oak store is very much "a one-off" rather than a blueprint of what Sainsbury's will become.
"We are learning new things all the time and most of the concepts we've thought about and included here have been thought about much more recently," he says.
"This is an experimental store – it's not the store of the future. There will be things that work and there will be things that won't or we have to adapt. But we will push the boundaries and see what's possible."
Huge opportunities
Sainsbury's has certainly done that – and in Birmingham, it has put together a first-class supermarket.
But, as Sinclair was at pains to point out, Sainsbury's is a food business. In the grocery aisles – where sales could do with a boost – signs of evolution are not quite as evident.
A food-to-go counter at the front of the store builds on the success Sainsbury's has enjoyed in that field at its Pimlico branch, with freshly cooked pizza, chicken and curries available to take away. Self-service coffee and orange juice machines help create a mini 'destination' food-to-go station.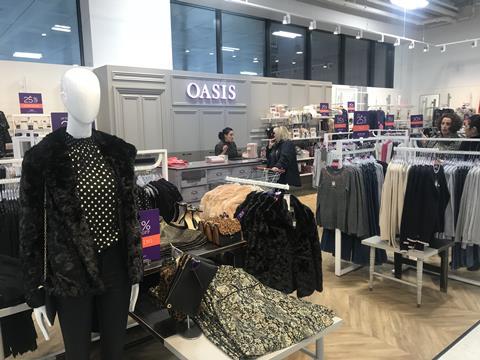 For those on a 'weekly shop' mission, however, it is much of a muchness. Aisles are slightly wider, particularly in fresh produce, and merchandising has kicked on in beers, wines and spirits.
But health and wellness – a new priority category for Sainsbury's with dedicated aisles at present in just two stores – fails to leave a lasting impression.
It is a growing market in which Sinclair says Sainsbury's sees a "huge opportunity", but its wellness aisle – stocking 1,050 SKUs (half of which are new) from protein bars and energy supplements to nuts, seeds and grains – is almost stumbled across as you visit the bakery.
Sinclair says Sainsbury's will learn lessons from Selly Oak – and wellness is one area it will need to do that.
If the grocer is to build any kind of authority in the category, the dedicated aisles will need to be given much more prominence and clearer signposting to build consumer awareness.
With the Black Friday and Christmas peak just around the corner, the grocer will learn plenty of lessons of that ilk very quickly indeed.
Sainsbury's will need to act upon them rapidly if it is to breathe fresh life into supermarket sales, which fell 0.5% in its first half – at a time when Tesco's Extra stores and Morrisons supermarkets are experiencing a rejuvenation.
What's the difference?
Selly Oak suggests that, despite Sinclair's insistence that Sainsbury's is a food business, the grocer is increasingly willing to rely on non-food sales to spark a similar revival.
Toys, technology, fashion, beauty and wellness all represent sizable markets for Sainsbury's to go after.
Performance in those categories could shield it from challenging performance in food, which has stuttered amid availability issues and an increasing focus on quality by rivals such as Aldi, Lidl, Tesco and Morrisons – ultimately leaving its Taste the Difference proposition tasting less different than it once did.
Selly Oak may well only be a testbed, but the emphasis on non-food and hospitality offers an intriguing insight into the strategic thinking being brainstormed 120 miles away at 33 Holborn.
If the Selly Oak experiments work, it may only be a matter of time before Sainsbury's stops referring to itself as a food business.
Analysis: Sainsbury's strikes new direction in Selly Oak
1

Currently reading

Analysis: Sainsbury's strikes new direction in Selly Oak

2

3

4