Amazon fires Fresh salvo at retailers with 130,000-line grocery launch
Etailer unveils extensive range across fresh, frozen, ambient and household categories
US giant vows to focus on low prices, fast delivery and customer experience
Service will be available to Amazon Prime members for additional £6.99 a month
Launch will cause further headaches for established grocers
Amazon has launched its Fresh grocery proposition in the UK as it cranks up the pressure on the established supermarket operators.
The US etail giant has unveiled the service this morning in 69 central and East London postcodes following months of industry speculation.
It offers Amazon Prime customers access to 130,000 SKUs spanning the fresh, frozen and ambient food categories, as well as household goods, health and beauty lines, pet supplies and baby products.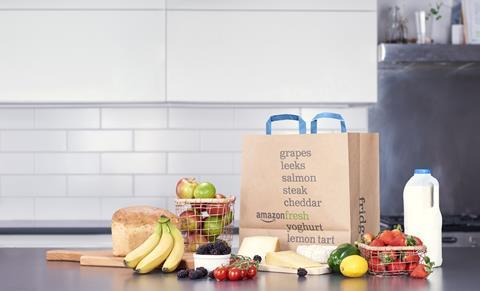 The extensive Amazon Fresh proposition will provide further headaches for the UK's established grocery retailers including Tesco, Sainsbury's, Asda and Morrisons, who have already been battered by a perfect storm of changing consumer habits, the growth of online retail, food price deflation and oversized stores that have become out of kilter with time-pressed customers shopping missions.
Amazon Fresh will sell thousands of lines by famous brands including Coca Cola, Walkers, Kellogg's, Danone and Morrisons' own label lines, as well as goods supplied by local food producers and artisan bakeries from locations including Borough Market and Notting Hill.
The service will only be available to Amazon Prime members, who will be charged an additional fee of £6.99 per month to become an Amazon Fresh member.
Shoppers who sign up to Fresh will receive unlimited home deliveries on orders worth more than £40. Baskets under £40 will incur a £3.99 deliver charge per order.
Existing Prime customers in eligible postcodes will receive a free 30-day trial when they sign up.
Amazon Fresh shoppers can select one-hour delivery slots between 7am and 11pm, seven days a week. Same day delivery is available between 5pm and 11pm on all orders placed before 1pm.
Rounded proposition
The etailer said it will focus on every day low prices, quick delivery and driving customer experience.
It will offer shoppers a 'Freshness Guarantee', promising them refunds if they are unhappy with the freshness of any of the goods they receive.
Amazon Fresh will also deliver goods in labelled, colour-coded paper bags separating frozen, fresh and cupboard-based products, while it has also pledged not to charge customers for any substitute items in their basket.
"We believe that the key to the long term success of Amazon Fresh is to bring together the low prices, vast selection, fast delivery options and customer experience that Amazon customers know and love."

Ajay Kavan, Amazon
The etailer has handed its former vice president of consumables, Ajay Kavan, the new role of vice president of Amazon Fresh.
Kavan said: "The bar in grocery retailing is exceptionally high. The supermarkets and grocers are amongst the very best retailers in the world.
"We believe that the key to the long term success of Amazon Fresh is to bring together the low prices, vast selection, fast delivery options and customer experience that Amazon customers know and love."
Amazon already offers a much smaller range of fresh, chilled and frozen items through its Prime Now service to postcodes in London, Surrey, South Yorkshire, Manchester, Birmingham, Newcastle, Liverpool, Leeds and Portsmouth.
However, the etailer would not be drawn on whether these regions would be top of its hit list when it comes to rolling out the service across other parts of the UK.
Kavan added: "We are launching with a comprehensive offer in a limited area and will take our time to hone and improve our service based on our learnings and feedback from our customers.
"We will be very methodical and considered in how we roll this service out further in the UK."
Deputy news editor Luke Tugby's verdict
It's a day some of us were starting to think might never come – and one that all grocery retailers would have surely feared.
After months of speculation, Amazon has lobbed the biggest of grenades into an already fierce grocery price war, the aftershock of which will be felt across the industry.
This may be a relatively small reveal on geographical terms, but make no mistake about it, the launch of Amazon Fresh will have a huge impact on the grocery sector.
Because a 'launch' is exactly what this is from the etail giant. It is not a pilot. Amazon Fresh has arrived in the UK and it will grow – at a pace.
If its initial offer of 130,000 SKUs isn't enough to send shivers down the spines of Messers Lewis, Coupe, Clarke, Potts, Collins and Steiner, its price points and fulfilment options will.
Amazon is not claiming to be cheaper than all of its grocery rivals, but 33p for a can of baked beans, 65p for six salad tomatoes and 43p for an iceberg lettuce are competitive prices that fall in line with its new rivals.
And at £6.99 a month for unlimited deliveries over £40, with no contracts tying customers in to six-monthly or annual passes, plus the promise of same-day or next-day deliveries, Amazon's overall Fresh proposition is one that will turn the head of many a shopper.
Amazon has emerged victorious in just about every market it has declared war in to date, but this will almost certainly prove to be its toughest test yet.
Amazon Fresh boss Ajay Kavan admitted as much himself, anointing his supermarket competitors as being "amongst the very best retailers in the world."
And like any retailer worth their salt, Britain's biggest grocers will not give up their hard-earned market share without a fight.
Sainsbury's boss Mike Coupe said yesterday that "you can never underestimate Amazon as a competitor," but laid down the gauntlet by warning: "They will have their work cut out, not just with us, but with our competitors.
"They will be taking on six very sophisticated, very efficient, very competitive companies and running a fresh food supply chain is very different to running a business that sells books and cameras."
Let battle commence.