Amazon has thrown down the gauntlet to Tesco, Sainsbury's and the Co-op with aggressive plans to launch 260 convenience stores across the UK.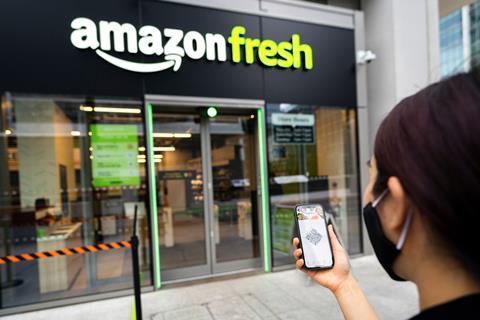 The etail titan is plotting the rapid roll-out of its checkoutless Amazon Fresh format over the next three years as it seeks to gobble up a sizeable chunk of the convenience food market.
Amazon, which launched its first UK c-store in Ealing, west London, earlier this year, wants to open 60 more autonomous shops in 2022 and another 100 per year in 2023 and 2024.
Internal Amazon documents seen by Business Insider said: "In 2022, we assume a broader roll-out of two store launches per week by the end of [the] year, targeting 60 total openings.
"In 2023 and 2024, we are planning 100 store launches per year, in line with more aggressive opening programmes achieved by convenience stores in the UK in the last five years. Tesco, Sainsbury's and Co-op have all exceeded 100 openings per year."
Amazon is also targeting store openings in Germany, Italy and Spain next year, the report added.
The online goliath has made a concerted push into bricks and mortar in the UK this year, opening six convenience stores powered by its 'Just Walk Out' technology.
Consumers scan a QR code to enter the shops, pick up the grocery items they want from shelves, and walk out without having to pay at a checkout.
Shoppers' movements are tracked by dozens of overhead cameras and sensors, and are charged for the items they take via their Amazon accounts.
The retailer also opened its first Amazon 4-Star store outside of the US in Kent's Bluewater shopping centre last month.
The shop sells around 2,000 of the etailer's most popular products including tech, toys, books and homewares.
Retail Week revealed in July that Amazon had poached Tesco veteran Tony Hoggett to run its stores division, a shock move that underscored the online player's commitment to growing its physical footprint.
Hoggett will take up the role of senior vice president of physical stores at Amazon in January, reporting into its chief executive of worldwide consumer, Dave Clark.