Zalando tries (and fails) to send a shoe to space, Ikea settles down in a Russian cinema and Currys ramps up for Black Friday 2015.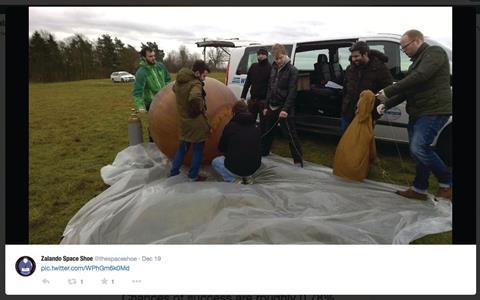 Moon boots
The human race may be able to land a robot on a comet 6.4 billion km away but sending a shoe into space is proving a little bit trickier.
Zalando hopes to make the first ever space delivery but the initial attempt (pictured above) ended in disaster last month. Despite winds of 49 kph the intrepid folks at the German-based retailer pressed ahead with the mission anyway.
Mission control tweeted from the @thespaceshoe account that strong winds ripped the package's parachute lines apart. The next launch is scheduled for mid-January.
Zalando would be well advised to hire the Rosetta mission's Dr Matt Taylor to consult on the next mission. Although his controversial shirts may not go down too well at the fashion retailer. Berlin, we have a problem.
Sleepless in Moscow
Ever wished you could get the big screen cinema experience while lying in bed? It looks like IKEA has come up with the answer.
It replaced 100 seats in the Kinostar De Lux multiplex cinema in Moscow with 17 beds. The cinema changed the sheets after every screening and provided slippers to ensure the highest levels of comfort.
It can only be hoped that the cinema did not air anything racy otherwise people may have made themselves too at home.
First in line
As John Lewis boss Andy Street sounded the alarm bells about Black Friday, retailers Very and Currys were counting down the days to this year's shopping bonanza.
Not put off by tales of people crushing each other to get their hands on a flatscreen TV and the crashing of websites as bargain-hungry shoppers clamoured for discounts, Very has set up a countdown calendar on its website.
The clock is counting the days, hours and even minutes to the next Black Friday (324 days, seven hours and four minutes at the time of writing).
A message alongside the clock reads: "Our last Black Friday was so amazing we're already counting down to next year's event on the 27th November 2015."
Meanwhile, Currys tells those flocking to its website to "put the date in your diary for Black Friday deals next year".
Despite Street's warning perhaps John Lewis could get in on action by unveiling a countdown to the launch of its Christmas ad. That way shoppers can ensure they are first in line to buy the inevitable toy version of ad's star.