WHSmith has posted a surge in profits and revenue in its first half as "strong momentum" continued across its UK and international travel business.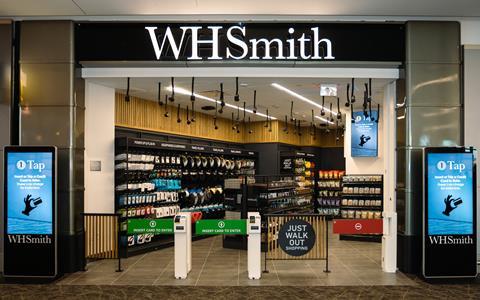 WHSmith posted group profit before tax of £45m in the six months to February 28, up from £18m in the comparable period last year, and said it is performing "ahead of expectations for the full year".
Travel UK revenues jumped 66% to £314m during the period, up from £189m in the prior year, while total sales at the North American travel business increased 53% and revenues across the rest of the world soared by 209%.
WHSmith's high street division's like-for-likes slipped 1% to £266m.
The stationery and travel retailer said it will continue to focus on "delivering robust and sustainable cashflows and profits".
It reported total group revenue of £859m, up 41% year on year, and said the group is in its "strongest ever position" as a global travel retailer.
WHSmith attributed the performance to "another very successful period in winning new business". It has secured 60 new stores so far this year and confirmed plans to open an additional 50 in its second half.
The retailer said it is "ahead of expectations for the full year" and will continue to "capitalise on multiple growth opportunities" including growing its average transaction value, opening new shops and expanding its category offer.
Chief executive Carl Cowling said: "We have seen a strong performance in the first half of the year, further strengthening our confidence in the prospects of our global travel business. We expect travel to represent over 70% of group revenue and around 85% of group profit from trading operations by the end of this financial year.
"In North America, we continue to open new stores, with 29 opened in the period, and these are performing well. At the same time, we have grown our new store pipeline with significant tender wins.
"We have won a further 28 stores so far this year, including 11 in Canada across Calgary and Edmonton airports. In the current financial year, we expect this division to generate over £50m profit, making it our second-largest division.
"Travel UK, our largest division, has delivered a strong first-half performance and has excellent growth prospects. Revenues are 19% ahead of 2019 levels, despite passenger numbers being considerably below 2019 levels.
"This performance has been driven by our category expansion, focus on average transaction value, the success of [tech brand] InMotion and our travel essentials one-stop-shop format.
"I am increasingly excited by the opportunity in our rest-of-the-world division. Our strategy of establishing a presence in multiple countries as a base for significant growth is demonstrated well by the growth in our store estates in Spain, Germany and Australia.
"Looking ahead, we are very well positioned to capitalise on the substantial growth drivers across our markets and we expect to make further good progress in the years ahead. Current trading is strong and we are ahead of expectations for the full year."