Home Retail chief executive stands by bricks in face of fierce criticism.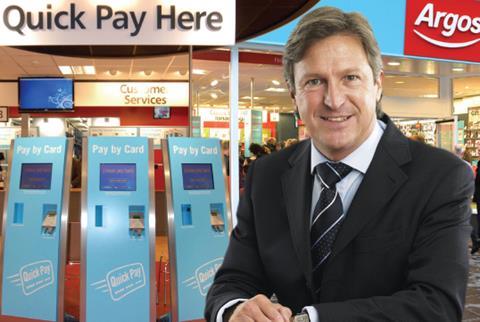 Home Retail chief executive Terry Duddy has insisted the retailer's extensive store base plays a pivotal role in the digital retail era and all but ruled out slashing store numbers at embattled catalogue store group Argos.
Ahead of Wednesday's results there had been widespread speculation that the appointment of consultancy OC&C to conduct a review of Argos signalled the likelihood of wholesale closures at the 748-store chain.
But as he revealed a collapse in profits at the flagship general merchandise business, Duddy maintained: "The stores represent an integral part of the Argos model, complementing the multichannel offer, with 90% of all sales involving the store in some way – a level that has remained constant over the last five years."
He told Retail Week: "There will not be an en masse store closure programme announced in the near future." Duddy flagged that over the next five years 230 Argos lease renewals and break clauses will come into play but said there will be openings as well as closures.
Duddy said: "With this flexibility, Argos will focus on optimising its store network by relocating or closing some older stores and opening some new stores if attractive sites become available."
The retailer is continuing with a store refurb programme and overhauled shops are delivering an average sales uplift of 2.5%, which is ahead of the "business case requirement" of 1%.
However, Duddy's enthusiasm for Argos' extensive store network was not shared by some City analysts who believe a cull is essential.
Panmure analyst Philip Dorgan argued: "We believe that Argos needs a significant store closure programme as it shifts towards clicks rather than bricks."
Seymour Pierce analyst Freddie George said the retailer will need to "adopt a restructuring programme reducing the number of stores".
Multichannel sales now account for almost 50% of Argos' overall revenue and its check-and-reserve service represents 28% of all sales. "The store network provides the certainty and immediacy of stock availability that customers require," the retailer maintained.
Duddy said that Argos is being hit by harsh trading and economic conditions, but insisted the retailer had not become a mere observer of its own travails: "I'd never say there aren't things we can do," he said.
He pointed to multichannel initiatives, range innovation and customer service improvements as evidence of steps being taken.
Home Retail full-year figures
▼ Argos sales: -7.7% to £3.87bn
▼ Argos benchmark operating profit: -57% to £94.2m
▼ Argos like-for-likes: -8.9%
▼ Homebase benchmark operating profit: -52% to £22.8m
Argos: catalogues to multichannel
Multichannel sales accounted for 48% of the total last year
M-commerce represented 6% of total sales in the fourth quarter
There were 430 million visits to the Argos website last year
Argos stocks 9,000 internet-only lines
New tablet apps will be introduced in time for Christmas trading