WHSmith boss Steve Clarke reveals high and mighty aspirations as two England cricket stars hit Carnaby Street shoppers for six.
WHSmith boss has high and mighty aspirations
WHSmith boss Steve Clarke was on great form when he spoke to us last week – not unsurprisingly as the stationery specialist had just rolled out an enviable set of full-year figures.
But despite reasons to cheer on the business front, not to mention a £4m annual pay package, Clarke is still not satisfied.
"As far as aspirations are concerned, I'd really like to be 6ft 2 inches tall," the chief executive told Retail Week.
"I'm only 5ft 8 and three quarter inches, you see," he added.
Don't worry, Steve! We love you just the way you are – all 5ft 8 (and three quarters) inches of you.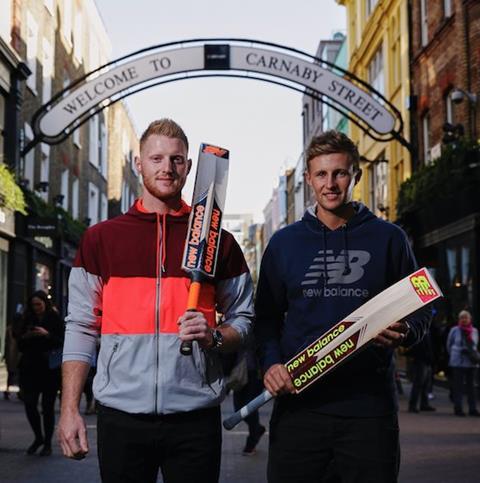 Cricket stars hit shoppers for six
They were wowing cricket fans across the globe with their performances for England at the World Twenty20 in India last month.
But Three Lions stars Joe Root and Ben Stokes swapped Kolkata for Carnaby Street as the scene for their latest match.
Pro-Direct hosted the contest on Carnaby's Foubert's Place, giving a handful of competition winners the chance to join in the sporting masterclass, before taking part in a question and answer session hosted by former England captain Mike Atherton.
We're sure the experience bowled them all over.
Keep on tweeting, retailers
High-street retailers could learn a thing or two from the financial sector, if mystery shopper research by BDRC Continental is anything to go by.
According to the study, established retailers are among the worst for answering customer queries on Twitter, while high-street banks and credit-card brands are the top performers.
Twitter-based customer service is expected to be speedy, but fashion retailer French Connection comes bottom of the pile in the research, taking an average of 39 hours and 22 minutes to respond to customers on Twitter.
However, French Connection was not the only guilty high-street retailer. The brand is joined by giants including Waterstones, Vodafone and McDonald's, which are among the 10 worst performers.
BDRC Continental director Tim Barber said: "It is 2016 and people expect a rapid response. If they don't get it, you could lose them forever. French Connection could be unintentionally sending that waiting customer to Topshop."
Lie back and think of England
A sex toy manufacturer has got the royal stamp of approval from the Queen, receiving an award in recognition of its international trade.
Lovehoney received the Queen's Award for Enterprise for its international sales over the past three years, which soared 79% following the launch of dedicated country websites.
Co-owner Neal Slateford said: "The Queen is Britain's greatest trade ambassador and consumers trust a brand with her patronage. Long may she reign over us."
Nothing like the royals to get pulses racing, we're sure.