Poundland has reported an 18.6% jump in pre-tax profits in its first year as a public company, but expects trading in its half-year to be "subdued".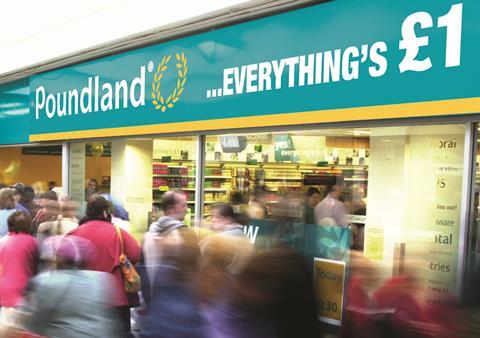 Full-year pre-tax profits up 18.6% to £43.7m
Like-for-likes up 2.4%
At least 60 net new stores planned for the year
The value retailer, which launched an IPO in February last year, revealed today that underlying pre-tax profits in the year to the end of March hit £43.7m. The group's sales, as reported in April, have reached £1bn for the first time, up 11.8%. Like-for-likes rose 2.4%, while underlying EBITDA rose 9.9% to £59.4m.
Poundland's chief executive Jim McCarthy said it has been a "record" year of sales and profit growth, helped by "strong trading" in the UK and Ireland and 60 net new store openings, bringing its total UK & Ireland store estate to 588.
Poundland, which is also in the middle of a takeover bid for 99p Stores, said it planned "at least" 60 net new store openings for its current financial year. The group's "long-term" store target is 1,000 in the UK and 70 in Ireland.
The average basket spend at Poundland rose 3.7% to £4.72, while customer numbers climbed 9.1%, with around 5.3m customers served a week.
Looking ahead
The retailer is also working on a new distribution centre in the north west of England, due to open in fiscal 2017.
Overseas, the retailer has also expanded with seven multi-price Dealz stores now open in Spain.
In current trading in the UK and Ireland, sales for the 11 weeks to June 14 rose 4.1% on a constant currency basis.
Looking ahead, McCarthy said: "We face a number of headwinds in the current financial year. The most significant of these is the weak euro.
He added: "We expect the seasonally less important first half of the current financial year to be relatively subdued. However, we believe that the second half should benefit from a combination of softer sales comparables, a very strong first half opening programme of at least 40 net new stores, against 28 stores last year, and the annualisation of last year's late-running new store programme."Poundland also revealed today that group trading director Richard Lancaster has left its board after three years and Paul Best has resigned as a non-executive director.