Following a strong set of full-year results, Pets at Home has unveiled its medium-term vision to become a "unified pet care platform".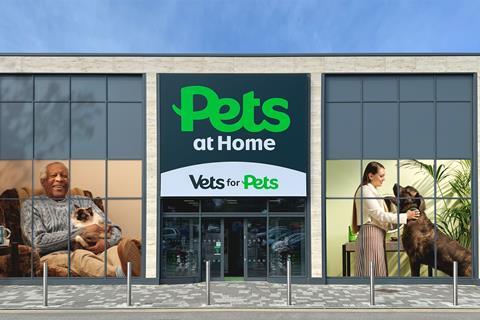 In the 52-week period to March 30, 2023, Pets at Home reported a 4.8% increase in underlying profit before tax to £136.4m, ahead of previous guidance.
The group also reported a 6.6% jump in sales to £1.4bn, with like-for-like revenues up 7.9%. Vet group sales increased by 13.3% while retail revenues grew 5.9%.
Statutory profit before tax was down 17.7%, due to the costs of bringing a new distribution centre online in the period and reflecting the gain on the sale of its specialist group.
Fresh cash flow was up 3.5% for the period to £98.2m, reflecting year-on-year profit growth.
During the period, Pets at Home attained a 24% share on the pet care market, while consumer revenues jumped 6.5% to £1.7bn, supported by volume and value growth.
As a result, the retailer said it was ready to take the next steps in its medium-term growth plan to become the "world's best pet care platform", which in turn will "generate substantial value for all stakeholders as we create a better world for pets and the people that love them".
Pets at Home today unveiled a strategy that touches on everything from integrating products, services and advice to seamlessly connecting online and store offerings, through to company values and financial delivery for shareholders.
Chief executive Lyssa McGowan said: "Our record performance over the past year demonstrates that our compelling pet care offer continues to resonate strongly with consumers. Through our unique blend of products, services and expert advice we were able to serve pet owners better, grow our consumer base and win more market share, building on our leading position in the UK pet care market.
"I would like to thank all of our incredible colleagues for their continued passion and dedication to our great business. It is our unique culture that sets us apart and will continue to underpin everything we do.
"We are committed to creating a better world for pets and the people that love them. I am incredibly proud that, through our foundation, we have raised over £50m to date for pets in need, making us the largest grant-maker to pet charities in the UK.
"This year, in partnership with pet charity Blue Cross, we also rolled out food bank donation points in over 200 of our pet care centres, donating over 1 million meals to help support pets and their owners during the cost-of-living crisis.
"Today I am also delighted to announce our updated strategic ambition to build the world's best pet care platform. I am incredibly excited about the opportunity ahead, building on the tremendous success the business has enjoyed in recent years and capitalising on our unique growth opportunity."