Sales at John Lewis rose 7% while Waitrose sales edged up 1%
Revenues driven by Valentine's Day, fashion and electricals
Partnership sales up 3.1%
Sales at department store group John Lewis rose 7% last week, with fashion and Valentine's Day the driving forces behind the increase.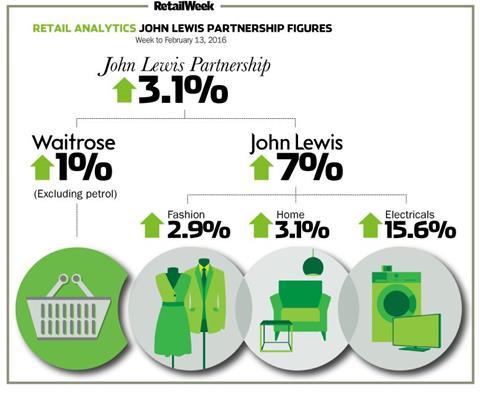 Sales overall at John Lewis came in at £74.6m in the week to February 13.
Fashion sales rose 2.9% compared with the same week last year, with the biggest growth in women's accessories, beauty and wellbeing and leisure. Those categories boast a high level of Valentine's Day gifts.
Beauty counter sales were up 4.5% while handbags were up 6.4%.
Home sales and electricals sales also experienced positive growth. Home sales grew 3.1%, with furniture up 6.4%, while electricals sales shot up 15.6%.
Communication technology was the star in this category, with 26.2% growth.
At its sister business, Waitrose, sales edged up 1% in the week to £127.47m.
Online flower sales rose 28% and in-store gift sales increased 35%, thanks to Valentine's Day.
Meat counter sales grew 67% while Chinese New Year led to Oriential food sales growth of 60%. Shrove Tuesday helped home baking sales rise 77%.
Overall, sales for the partnership increased 3.1% to £201.9m in the week to February 16. Of the £201.9m, £127.47m was generated by Waitrose, where sales increased 1%.