Total sales down 3.5% for sixth week of financial year
First six weeks up 3.1%
Fashion suffered biggest fall, with 9.6% decline
John Lewis Partnership has reported a drop in sales for the sixth week of its financial year, as fashion sales decreased 10%.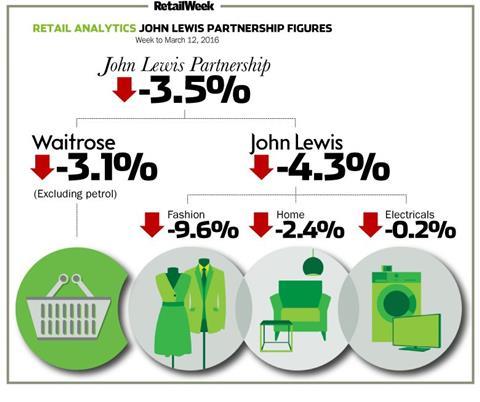 Overall, sales at the partnership were down 3.5% in its sixth week, though the six weeks of the 2016/17 financial year are up 3.1% on the previous year.
At John Lewis, sales were down 4.3% for the week and up 3.9% for the six weeks.
Waitrose followed the same pattern, with sales down 3% in the week and up 2.7% in the six weeks.
John Lewis said because Mother's Day fell a week earlier than in the previous year, it resulted in "tougher trading conditions".
John Lewis
At John Lewis, total sales were £71.5m. Homewares were down 2.4% overall while electricals and home technology sales fell 0.2%. Furniture and audio were in positive growth, with a 4.8% uplift and 4.4% uplift respectively.
Fashion fell drastically, dropping 9.6%.
Electricals and home technology buying director Jonathan Marsh said: "Sales across fashion were tough due to the non like-for-like Mother's Day weekend. Sales in women's accessories fell versus last year after a strong performance last week, and cold weather lines outperformed our warm weather products in fashion as winter weather persisted.
"Customers will continue to prepare for Easter during the week ahead as we move forward into spring."
Waitrose
At Waitrose, sales excluding fuel were down 3.1% owing to Mother's Day falling later than last year. Combined sales for the two weeks were up 3.4%.
Waitrose picked out Easter and convenience foods as two areas that performed well. Sales of hot cross buns were up 20%, contributing to a 1.6% increase in the bakery, hospitality and food-to-go category. Easter staples, including confectionery and eggs, were up 102%.
The football and rugby at the weekend meant that ready meals were up 3.5% and pizza was up 15%.
Waitrose added that its online orders were up 7.5%, year on year.
John Lewis Partnership announced its full-year figures for 2015/16 last week, reporting a 10.9% fall in profits.