John Lewis sales up 15.1%
Home sales up 21.7%
Waitrose sales up 10.9%
John Lewis posted a 15.1% jump in sales last week as its textiles and furniture categories enjoyed a "particularly strong" spring.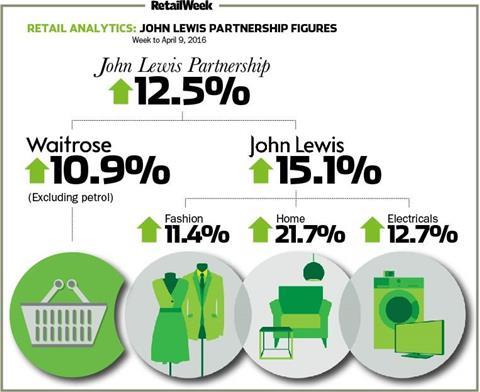 John Lewis finished the week with total sales of £79.2m, a 15.1% increase on last year, but the retailer said results were "flattered" by an extra day's trade, owing to the non-like-for-like timing of Easter Sunday.
The department store group's home department had a positive week with sales up 21.7% year on year. "Sales in textiles and furniture categories were particularly strong," the retailer said.
Fashion sales continue to be affected by "cooler spring weather", but owing to strong sales in beauty and menswear, fashion finished the week with an overall increase of 11.4%.
Sales in its electricals, home and technology division were also up 12.7% for the week, with large electricals bolstering overall figures for the category.
Retail space unveiled at John Lewis Oxford Street and a home page takeover on Johnlewis.com resulted in a 19% uplift in sales of Smart Home products at Oxford Street when compared with the previous week, the retailer said.
Sister retailer Waitrose reported a sales increase of 10.9% to £124.15m last week, but admitted figures were "still distorted" because of the later fall of Easter in 2015.
Sales are up 2% compared with the equivalent week last year.
With spring well underway, sales were driven by seasonal flowers, up 28%. Sales of vegetables were up 5% on last year. Fruit also performed well with citrus up 4% and stone fruit up 13%, the retailer said.