Online musical instrument retailer Gear4music has unveiled a jump in like-for-likes in the run-up to Christmas driven by strong own-brand sales.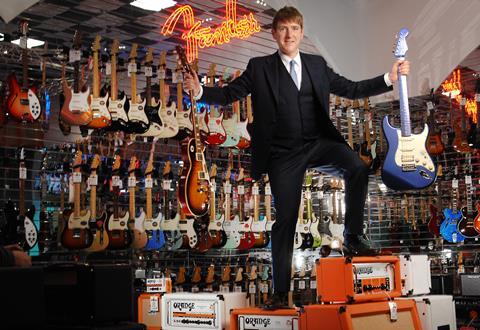 Gear4music, which floated on London's AIM in 2015, said total like-for-like sales leapt 55% to £24.4m in the four months to December 31.
The York-based etailer's UK sales increased 29% to £15m, while sales at its international division rocketed 129% to £9.4m.
Its chief executive Andrew Wass said he was "particularly pleased" with sales of own-brand products, which grew 63%.
The boss said this was driven by "improving conversion rates" and "investment in additional stock".
Wass added that, as a result, he is confident of delivering full-year profits "ahead of the increased expectations signalled at the half-year stage".
Clicks and bricks
The etailer launched a distribution centre in Sweden during the period, marking its first physical venture outside its home city.
It hopes its German distribution centre near Düsseldorf will also be operational by the end of the financial year.
Gear4music toyed with the idea of opening a 12,000 sq ft flagship showroom in London last year, but Wass cooled his interest after admitting property is "too expensive".
Wass said: "As the business continues its programme of investment into distribution centres, websites, systems, products and people, we remain confident of delivering on our growth strategy."
The etailer currently operates a 9,000 sq ft showroom in York as well as websites in 19 countries.
Gear4music's number of active customers increased 53% year-on-year to 324,000.