If M&S has any of its Valentine's Day chocolates left over, a box would be on its way from boss Marc Bolland to style supremo Belinda Earl.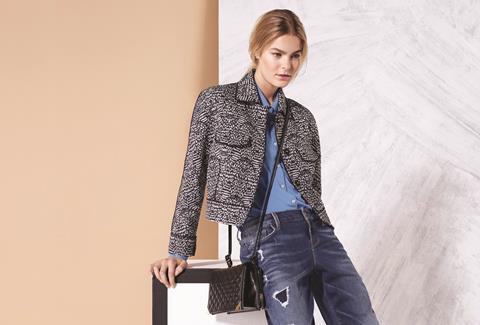 The retailer is probably short of such choccies – they were part of a dine-in deal that clocked up a record 830,000 sales tally – but Bolland will no doubt find another way of acknowledging a long-yearned for improvement at M&S's vital general merchandise arm.
For the first time in four years, M&S posted general merchandise like-for-like growth – even if only just.
In the fourth quarter, like-for-likes at the division – the bulk of which come from apparel – inched up 0.7%, ending a 14-quarter run of declines. Total general merchandise sales advanced 1.3%.
And another bugbear, online underperformance, appeared to have been slain.
After the sales slowdown following the relaunch of M&S.com early last year, and distribution difficulties over Christmas, a 13.8% revenue rise was welcome.
But Bolland refused to say the retailer has turned a corner.
"We've been bang on trend"

Marc Bolland, Marks & Spencer
He stuck doggedly to the "step by step journey" metaphor he has constantly deployed and gave no hint of whether the destination is just around the corner or there are more tricky bends to negotiate.
"I'm not going to step away from the step by step story," said Bolland. "We never guide on sales going forward.
"What we've shown in the quarter is that our spring/summer collection has been well received. We've actually been bang on trend."
He pointed to the success of trends such as 'into the blue' – jeans were up 18% in the period – and spring boots, ahead 19%, as evidence.
Such success, he said, showed that "people are looking for quality and style", characteristics that M&S has been focusing on, as well as reflecting improvements in-store such presentation and service.
Protecting margin
Those differentiators helped the retailer to "slightly" pull back on discounting and protect margin – it is on target for a general merchandise margin improvement of between 150bps and 200bps.
"The market was slightly higher promotionally, but we have been able to hold [margin] in a market like that," Bolland pointed out.
He said improvements to search, navigability and speed had helped lift ecommerce sales and that 2.5 million people visited its Style & Living inspirational editorial content online. "You wouldn't have had that two years ago," he maintained. "That's quite a spectacular change, the dotcom growth is a highlight."
Consultancy Conlumino's senior consultant Anusha Couttigane said M&S has taken "big steps toward rebuilding its fashion credentials" and had managed circumstances well.
She observed: "Having suffered from higher levels of stock going into Christmas due to an unseasonably mild winter, promotional sales in the subsequent period have been scaled back and the focus on full-priced lines reinforced."
"One quarter of positive like-for-likes does not a trend make"

David Jeary, Canaccord Genuity
Broker Canaccord Genuity was encouraged, but not overexcited, by the general merchandise performance.
Analyst David Jeary said: "Returning to sustainable positive like-for-likes and stopping market share erosion in general merchandise remain key sentiment drivers for us.
"Just as one swallow does not a summer make, one quarter of positive like-for-likes does not a trend make."
Skirt of the season
But there are signs that some of the latest fashions about to go into stores – notably a suede skirt already dubbed by the newspapers, Liz Hurley-style, "that skirt" – may prove popular.
Couttigane said: "Sharp use of celebrity endorsement and social media has helped to create hype around its much-lauded suede 'skirt of the season'.
"This is just the kind of buzz and energy that could see M&S return to fashion favour"

Anusha Couttigane , Conlumino
"As images of style icons Alexa Chung and Olivia Palermo sporting the Autograph design continue to flood the internet, this is just the kind of buzz and energy that could see M&S return to fashion favour.
"This has been compounded by the retailer's decision to place customers on a waiting list for the piece, aiming to create the illusion of exclusivity."
Bolland, who has been under pressure to show that M&S could return to form in fashion, seemed pleased with progress and optimistic about what is to come, although he was keen to emphasise he is taking a "measured view" of how things are going.
He said: "I really enjoy this role. I'm still enjoying it. There's more to do."
Now attention will turn to performance in the months to come in order to see whether or not M&S really has turned a corner in its long, sometimes weary, journey.