Card Factory sales grow 4.4% across nine-month period
Retailer "confident" of delivering 50 net new openings in current financial year
Bosses say there is a "good pipeline of new store opportunities" next year
Card Factory has posted a jump in sales over the first three quarters of its financial year as it presses ahead with an aggressive store opening programme.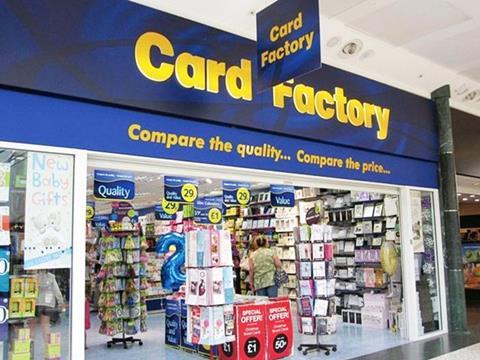 The greeting cards business said total sales advanced 4.4% during the nine months ending October 31, after opening 46 net new stores during the period.
Card Factory did not provide a like-for-like sales figure as part of the update.
The business is targeting further store openings to drive sales growth and said there is a "good pipeline of new store opportunities" in its next financial year, as it continues its strategy of opening approximately 50 net new stores per year.
Card Factory, which admitted at its interim results that sales growth had been "softer" during the first half, said weekly sales patterns "continued to vary" during its third quarter.
The retailer opened 12 net new stores during the third quarter, bringing its portfolio to 860 shops at October 31.
Online flat
Card Factory said sales at its online business gettingpersonal.co.uk were flat year-on-year, as improvements in average transaction values were offset by a decline in shopper numbers.
Card Factory chief executive Karen Hubbard said: "The general retail environment has remained challenging with adverse footfall trends impacting customer traffic into our stores.
"We remain wary of the uncertain outlook for consumer confidence, although we are pleased to note that, since the start of October, weekly sales patterns for everyday ranges in our stores have started to improve."
Card Factory, which said full-year expectations remain unchanged, will reveal its preliminary results on Tuesday March 28, 2017.