B&M boss Simon Arora says its success in the South has proved doubters wrong and that customers countrywide enjoy hunting for bargains.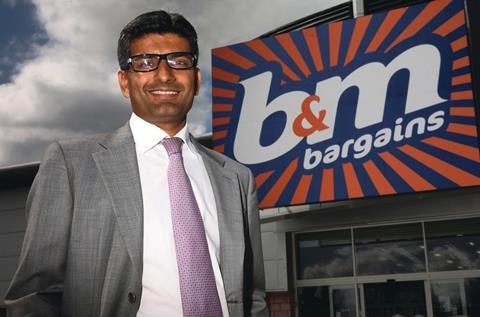 Earlier today, the value retailer reported group full-year net profits of £39.9m after a 29.5% jump in sales to £1.6bn, boosted by new store openings.
The retailer floated on the London Stock Exchange last year and Arora admitted that concerns had been raised that B&M was "relatively unproven" beyond the Northwest.
However, in the past 12 months the retailer has opened 19 stores south of Birmingham, bringing its total portfolio in the South to 60. Six stores are within the M25. It aims to open around 60 stores across the country in the present fiscal year.
Arora told Retail Week: "The people of Southampton are the same as the people of Northampton. It's unarguable that everyone loves a bargain; nobody wants to pay more than they need to.
"We've opened stores from Plymouth to Norwich – across the whole breadth of the UK," he said. "We're seeing an increase in an average spend. Consumers are buying more of our discretionary products."
Impulse buys
Arora said consumers continue to enjoy the "treasure hunt" element of shopping at B&M and 100 new product lines are added to stores each week.
"One of the amusing things is if you ask them what they purchased, half of it is an impulse buy. They enjoy the treasure hunt element of going to B&M and looking at what we've got."
However, looking ahead, Arora sounded a note of caution: "We are finding it's a very competitive market and the market generally is flat. It's tough but we are continuing to take market share."
But he said: "We think there's been a permanent structural shift to value and to convenience."