Burberry unveils a rainbow check for Bailey's last collection, Poundland gives one teacher a lesson, and Apple's voice tech is making a mark in more ways than one.
Bailey leaves Burberry with LGBTQ design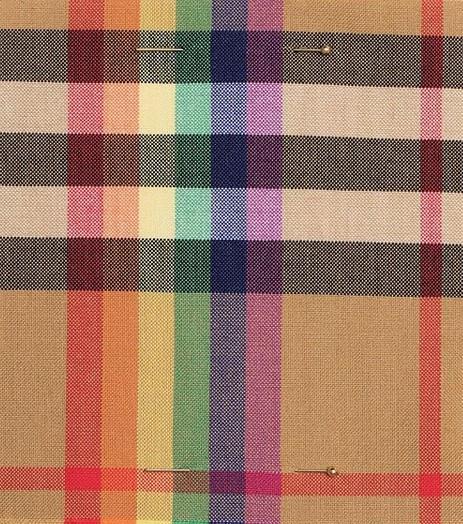 The final Burberry collection under long-time creative boss Christopher Bailey is dedicated to a celebration of LGBTQ communities.
The fashion house has also unveiled a rainbow check – an LGBTQ twist on its classic pattern – for the show. It has also pledged to support three LGBTQ charities which work with communities around the world.
Bailey, who has headed Burberry's creative vision since 2004, said: "My final collection here at Burberry is dedicated to – and in support of – some of the best and brightest organisations supporting LGBTQ+ youth around the world.
"There has never been a more important time to say that in our diversity lies our strength, and our creativity."
Poundland gives teacher a lesson
Poundland came out fighting this week after a teacher branded a GCSE Grade 4 as a "Poundland Pass" in education publication TES.
Stephen Petty, head of humanities at Lord Williams's School in Oxfordshire, claimed that although a Grade 4 and 5 both equal a C, Grade 4 is a "Poundland C", below a Grade 5 "Waitrose C".
However, the retailer's PR and charity manager Andrea Ross posted a letter to the teacher on Twitter alongside the hashtag #Proudland: "I hope my assumption that part of the ethos at your school is to use language respectfully and in a way that doesn't promote stereotypical thinking.
"Indeed, it appears from your school motto (Sic itur ad astra a tous venaunts), you stress the importance of inclusivity.
"My 19,000 colleagues at Poundland will find your use of our company name as a pejorative adjective, belittling them and how hard they work.
"Nevertheless, I'm sure they will also conclude that the use of our name in that context says more about you than them.
"Perhaps we could respectfully ask that you avoid using our name as a judgemental adjective in future, if only so people are less likely to jump to conclusions about you."
Mr Petty, consider yourself well and truly schooled.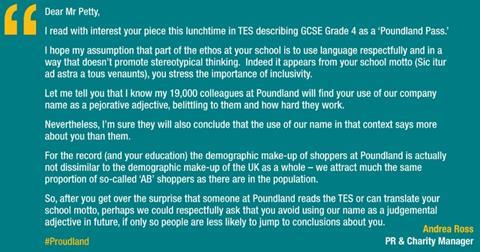 Apple voice tech fails to clean up
Apple has been rather slow off the mark in the arms race to develop a voice-activated device in comparison with rivals Google and Amazon, and the electricals giant's latest HomePod speakers haven't gotten the reception the business hoped for.
Apple's latest device has made the wrong kind of mark as some customers have complained that the £319 speakers have left a stain on furniture.
The company has insisted that the offending stain will fade after a few days, and has also suggested users clean the stained furniture to remove the mark.
Seems like Apple AI assistant Siri has some work to do to win back shoppers from Alexa and Google's Assistant.