Poundland's acquisition of 99p Stores will sadly, not create a new chain of 99.5p Stores, as some wits speculated on Twitter this morning.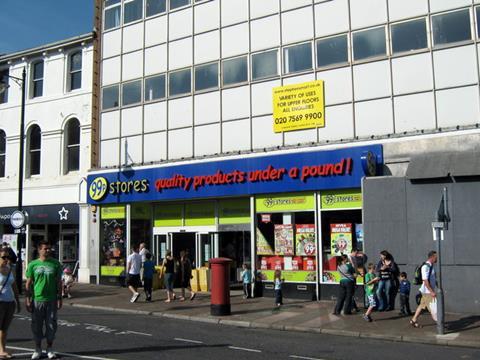 What it will do, assuming it is approved by the Competition and Markets Authority (CMA), is help Poundland prevent a fast growing competitor from stealing market share, while also helping it to reach its aggressive growth targets.
The deal, which will see Poundland acquire 99p Stores' network of 251 stores for £55m, is an about face in terms of its strategy, retail analyst Nick Bubb said. The company currently operates almost 600 stores across the UK, Republic of Ireland and Spain.
"Having always said that it wasn't interested in buying out its aggressive but smaller rival 99p Stores because it was opening its new stores so close to its own, as it came south, Poundland has decided that it is better to deal with the nuisance by pursuing a path of 'consolidation' and buying the company," says Bubb.
While the deal will see the retailer operate stores within close proximity to each other, Kantar Retail insights director Bryan Roberts is sanguine about the prospect of cannibalisation.
"There are a few locations where Poundlands exist in very close proximity. In Kilburn High Road, there are two Poundland outlets within about 500 yards of each and they are both rammed all the time. I think they can exist in close proximity."
But, Economist Intelligence Unit analyst Jon Copestake said the deal may create over-concentration for Poundland.
"The acquisition could also imply that organic growth opportunities are becoming more limited for Poundland," says Copestake. "Selling at a single price point limits the offering that Poundland can sell and the discount market is becoming ever more competitive, even as incomes and consumer confidence begins to show signs of a recovery, which may have negative repercussions for some discounters."
However Roberts said he did not expect Poundland to phase out the 99p Stores fascia. "I think they might keep some 99p Stores, because that would create the illusion of choice from a shopper perspective and for any potential regulatory disposals."
The discount sector is a "fairly robust growth market with a lot of headroom for expansion" despite trading up as the economy continues to improve, according to Roberts.
"The basic human economic rationale to minimise spending doesn't really go away, so the fixed price point retailers have a lot to offer in terms of a good and improving range and merchandising," he says.
While consumers continue to buy into the fixed price retailers, rising prices arguably mean that stores like Poundland have a shelf life, which leads Roberts to suggest Poundland should continue to operate the Family Bargains fascia.
"The unknown is what the company is planning to do with the Family Bargains format, whether it's going to [turn them into] giant Poundland stores," says Roberts. "In a world of long-term inflation, fixed price retailers have a limited shelf life. Having that multi price-point format would be a good thing to have up its sleeve."
From a sourcing perspective, the deal is a good one, with consolidation leading to increased purchasing power.
Beyond this, Roberts suggests that Poundland will bring a number of "strengths" in terms of ranging and sourcing.
"99p Stores seems to be a bit more reliant on wholesalers and the grey market than Poundland, so having that direct relationship in health and beauty and confectionery will be very beneficial," says Roberts.
Despite the improving economy, it remains a format ripe for continued expansion, particularly when it makes its much discussed foray online. "As we've seen in the US, as the economy improves, the dollar stores still continue to thrive, and there's still a lot of headroom for Poundland to grow in the UK," concluded Roberts.
Analysis: How will Poundland's acquisition of 99p Stores impact the discount sector?
1

Currently reading

Analysis: How will Poundland's acquisition of 99p Stores impact the discount sector?

2