Walmart is preparing for lean Christmas sales despite reporting its first like-for-like sales growth in nearly two years.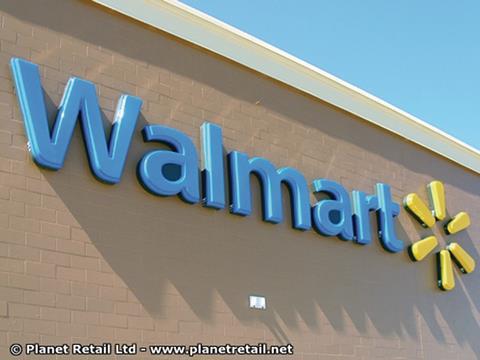 Revealing a 0.5% like-for-like increase in store sales in the 13 weeks to the end of October, the US grocery giant said that pressure to compete with online retailers, which it has instructed store managers to match on price, is likely to lead to a flat performance over the festive period.
The retailer said the increase was partly thanks to a strong performance in its Neighbourhood Market format stores, which reported a like-for-like sales increase of 5.5%, and said that fuel price cuts had also boosted sales. Excluding petrol, the retailer's like-for-likes were down by 1.8%.
An overall 3.4% sales increase, including stores opened in the past 12 months, took Walmart's net sales to $70bn in the 13 weeks.
Commenting on the results, Walmart president and chief executive Greg Foran confirmed that an existing policy of instructing managers to match prices offered by online retailers, in particular Amazon, had been extended to a further 4,300 stores in preparation for Christmas.
Foran said that the company faced "sales and operating-cost headwinds" that are likely to impact its bottom line in the final quarter of the year.
He added: "Overall, I would characterise the quarter's sales performance as mixed. As we enter the fourth quarter, we see both opportunities and challenges ahead of us".