Tesco is expected to unveil a loss of up to £5bn, the worst results in its history, on Wednesday at its full-year results.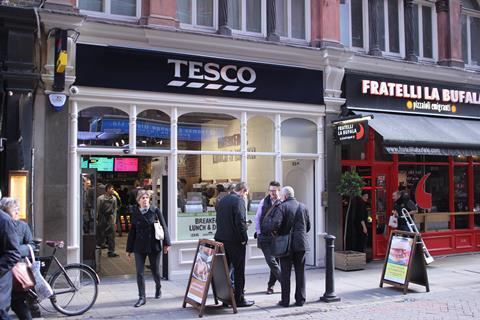 The City is predicting Tesco will report a pre-tax loss of between £4bn and £5bn as it is hit by a potential £3bn writedown on the value of its stores.
Tesco house broker Deutsche Bank also estimates new boss Dave Lewis will have to commit an additional £250m a year to plug a pension scheme black hole, according to The Daily Telegraph.
The grocer's interim results in October revealed its pension deficit had surged to £3.4bn after tax and City estimates believe full-year results will show the deficit has now grown to £5bn.
Tesco's investment into reducing its pension deficit comes as Lewis attempts to overhaul the supermarket to turnaround a sustained period of falling sales.
It appears initial measures are beginning to pay off after Kantar figures released in February showed that Tesco had recorded sales growth for the first time since January 2014.
The return to sales growth came after Tesco reduced prices and placed more staff on the shopfloor.
In order to fund the shopfloor investment and price cuts, Lewis is seeking to reduce business costs by £250m a year through measures including the closure of its Cheshunt headquarters, disposing of its final salary pension scheme and closing 43 stores as it abandons plans to build 49 new stores.