Retailers need to shift customers off discounts to improve margin and trust, according to a white paper produced by KPMG and Ipsos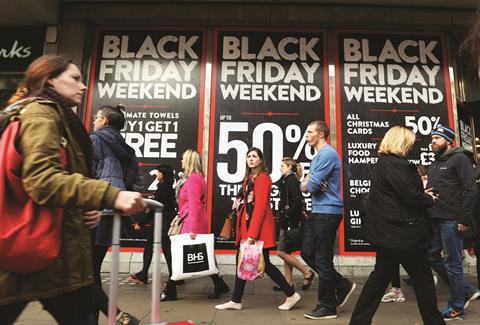 Discounting has become the norm following the recession, leading shoppers to become hooked on bargains
The internet helps shoppers check and compare deals
Discounting can damage a consumer's perception of brands and retailers
UK customers today expect a bargain when shopping, a trend which has been exacerbated by the recession and price checking online.
But the KPMG and Ipsos Retail Think Tank (RTT) white paper said discounting cannot be a permanent strategy as margins can only be squeezed so far. The white paper also said consumers now know where to search for a bargain and are willing to wait for the best offer.
Richard Lowe, head of retail and wholesale at Barclays, said: "As a consequence, shopper behaviour has changed intrinsically, leaving many retailers with the conundrum of how to satisfy consumers' insatiable need for a bargain whilst maintaining profitability. After all, margins cannot be eroded to the point where retailers are unable to stay in business."
Maureen Hinton, analyst at Conlumino, advised retailers to have a "well-structured price architecture, where first price is the right price. And a planned discount strategy."
Consumer trust
Retailers must look to wean shoppers off their diet of discounts, not only to improve margins but also to improve consumer trust, the report stated.
Dr Tim Denison, director of retail intelligence at Ipsos Retail Performance, said: "Dropping prices can introduce doubt and suspicion, encouraging thoughts such as: 'I must have paid over the odds before', or 'perhaps they have changed the formulation or container size'. Discounting plants the focus on price rather than a product's functionality or a retailer's differentiation.
"The danger is that the shopper's fixation on price distances decision-making away from other attributes such as quality or personal relevance. Ultimately it can damage a retail brand if they have nothing else of value to offer customers other than low prices."
Martin Newman, chief executive of Practicology, agreed. He said continual discounting can only erode margin and brand equity.
"In my opinion, it also erodes trust. Consumers begin to question whether RRPs are genuine. Therefore, it can be strongly argued that discounting is a race to the bottom."
Newman also pointed out that Black Friday 2014 demonstrated that "retailers who held their nerve and didn't take part fared well in terms of Christmas demand as well as margins and profitability".
Economists argue that now is the right time for retailers to wean their customers off bargains, as consumer confidence is at a 12-year high.