Online fashion retailer Net-a-Porter has reported its first profit for five years, months after merging with Italian etailer Yoox.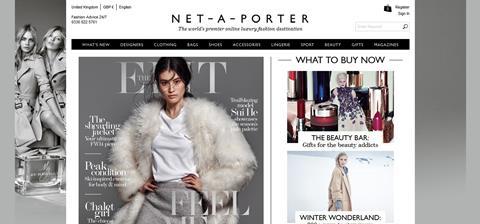 Net-a-Porter £11m profit driven by record sales of £654m
Sales of non-discounted goods drives up profit margins
Bosses say retailer will continue to drive "power of collaboration" with brands
Net-a-Porter swung to an £11m profit in the year to March 30, 2015 following a £9.7m loss in 2014.
The full-year profit, which is the first since Net-a-Porter was acquired by Swiss giant Richemont five years ago, was driven by record sales figures. Net-a-Porter said revenues jumped 22.8% to £654m for the year.
It said 45% of its sales came from Europe, with 31% from the US and the remaining 24% from Asia and the rest of the world. Sales in the UK grew 24% year on year, while US sales rose 27%.
The group, which sells designer fashion brands across three websites, Net-a-Porter, Mr Porter and The Outnet, said underlying earnings had increased from £37.8m to £54.2m, while gross profit margin also rose from 44.1% to 45.3%. Net-a-Porter said this was because of stronger sales of non-discounted goods.
The etailer, which revealed a deal to merge with Yoox in March and is set to be renamed Yoox Net-a-Porter, added that the number of unique visitors to its websites had grown to 10.7 million.
Net-a-Porter founder Natalie Massenet said: "In today's world where technological innovation is rapidly changing consumer habits and lifestyles, success in business will no longer be driven solely by the forces of competition but by the power of collaboration – collaboration between retailers and brands, and collaboration between and among consumers.
"This is where the future of fashion lies, a future we at Net-a-Porter will continue to create."