Card Factory has reported that its first-quarter sales rose 7.5%, helped by the roll-out of new stores and online growth.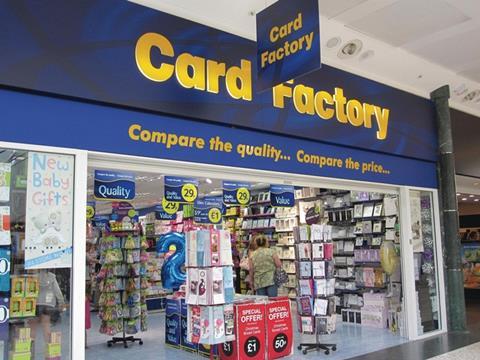 First-quarter sales up 7.5%
19 net new stores opened in three months to end of April
On track to meet full-year financial expectations
In a trading update, the greeting card and gift specialist said the sales increase in the three months to the end of April was also driven by "like-for-like sales growth". However a like-for-like figure was not disclosed. The group remains confident it will hit its full-year financial expectations, it said.
On pricing, the Card Factory said it "continued to operate selective pricing strategies in certain locations during the period".
Nineteen net new stores were opened in the quarter, bringing the total estate to 783. "We remain on track to deliver approximately 50 net new stores in the current financial year," the retailer added.
Card Factory's online business - Getting Personal - continues to "perform well", the retailer said. It also relaunched its transactional website under a new domain last month.
In March, the retailer reported that its full-year underlying operating profits grew by 8.9% to £79.4m, its first full-year results as a public company.
Card Factory chief executive Richard Hayes said: "Following on from our record performance last year, we have had a positive start to our new financial year, with consistently strong revenue growth and cash generation."
The company is also holding its AGM today.