Asos reported a record Christmas for sales, but its profits dipped as the etailer invested in its international capabilities.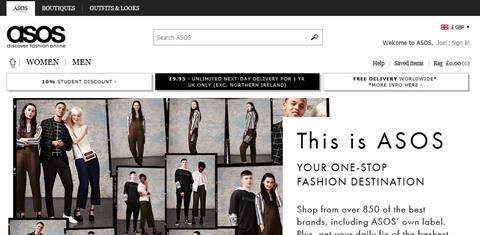 Profits for the online fashion retailer dropped 10% to £18m for its six months ending February 28, 2015. Chief executive Nick Robertson put this drop down to its increased investment in building its global distribution capacity.
"The successful launch of our zonal pricing capability and planned investment in our international prices resulted in a gross margin decrease of 230 basis points during the period, which together with increased investment in building our global distribution capacity, has reduced half-year profit before tax by 10% to £18m," he said.
The etailer also said its pre-tax profit includes the business interruption reimbursements of £6.3m relating to the warehouse fire in the prior financial year. During its fourth quarter 2014 Asos was hit by the fire at its Barnsley distribution centre where the etailer lost sales of between £25m and £30m with a retail gross margin impact of around 200 basis points.
But Asos had a record Christmas season with total retail sales up 14% to £536.4m, broken down to a 27% increase for the UK (up to £231.4m) and a 5% increase internationally (up to £305.1m). Group revenues rose 14% to £550.5m, while gross profit increased 9% to £265.2m.
High engagement
Meanwhile, active Asos customers increased by 13% over the last year, which surpassed the 9 million mark for the first time.
The etailer said seasonal events such as Christmas and Black Friday remained crucial, while Halloween and Valentine's Day are becoming more important, and the etailer is offering specific ranges for those dates.
Over the last six months the fashion etailer relaunched its premium own label Asos White and introduced a range of "red carpet" evening dresses, which have "stretched the price architecture" for its own-label portfolio.
"Our customer engagement remains high, with growth in visits, average order frequency, average basket size and conversion all improving. Our active customers grew by 13%, exceeding the nine million mark for the first time," added Robertson. "With our continued investment in our international price competitiveness gaining traction, momentum in the business is building. This gives us confidence in the outlook for the second half and that full-year profit and margin will be in line with expectations."
Asos also stated it remains committed to investing £75m in its technology offering by the end of the next financial year. The retailer announced in February the appointment of a new chief information officer, Clifford Cohen who will join the business in May. Clifford's most recent role was as IT chief at Marks & Spencer.
The etailer said it is continuing to invest in its underlying platforms and behind-the-scenes technology to support its global expansion and customer experience.