Private equity firm Active has sold Evans Cycles to another private equity business, ECI, for an undisclosed sum.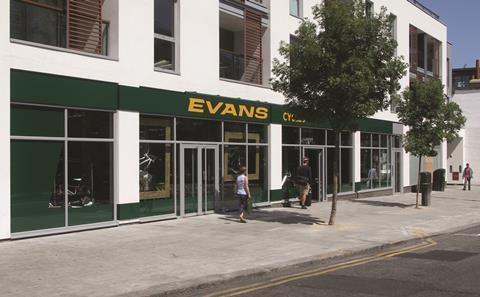 ECI has taken a "significant majority stake" in the bike retailer, the companies said in a joint statement today.
The value of the deal was not disclosed, but previous reports suggested Evans could be worth £100m. However Retail Week understands that the final figure was below this.
Evans' management team, led by chief executive Nick Wilkinson, will continue to run the business in partnership with ECI.
George Moss, partner at ECI, said he believed Evans is well positioned for "further growth" as consumers "look to lead increasingly healthy lifestyles". He added: "We very much look forward to working with the Evans team to help realise the company's full potential." ECI was previously touted as the favourite to acquire Evans.
In its last full-year, Evans reported a pre-tax profit on ordinary activities before tax of £2m, compared with a loss of £98,000 the prior year. Sales hit £127.7m, a 12% rise.
Active acquired Evans in 2008, which was then family-owned with annual sales of £44m. The chain now has 56 stores and an ecommerce business. Active said that sales have grown "more than" 300% since it acquired the business and it will realise an eight-times multiple on its original investment.
ECI's other investments include Avantia, ATG Media, CarTrawler, Encore Tickets and Great Rail Journeys.
There was speculation in January that Sports Direct boss Mike Ashley was in the running to acquire Evans Cycles.