London Fashion Week always brings a raft of technological innovations from retailers such as Burberry. This year Topshop led the pack with its virtual reality experience.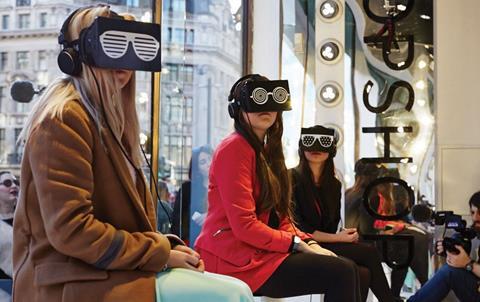 The retailer live-streamed its Unique show into a virtual world created by 3D agency Inition.
By wearing Oculus Rift headsets, shoppers at Topshop Oxford Circus were transported into a 360-degree virtual world that included a live runway feed, backstage action and VIP arrivals.
Adopting virtual reality is, of course, a little gimmicky but it is slowly integrating into the world of retail. Technology such as magic mirrors and augmented reality is becoming increasingly mainstream. It is Topshop's younger audience who will be adopting such technology so it seems a smart, as well was an innovative, move.
Inition co-founder and creative director Andy Millns says virtual reality is the "next revolution in mass media". "Virtual reality is the ultimate interface to the digital world with the power to transport the user to another place as soon as they put on a special display. This unique technology has the potential to open up fashion shows to the consumer at home."
Topshop was right to put customers at the heart of London Fashion Week, for it is their reaction that is of utmost importance.
Its youthful customer base is as concerned with the celebrities who wear Topshop as the product itself.
To give them exclusive access to that celebrity experience and make them feel like a VIP made Fashion Week relevant to its customer and ensured Topshop made the most out of the prestigious event.