Asos is testing a click-and-collect delivery service at its head office that will allow customers to try on and return products straight away.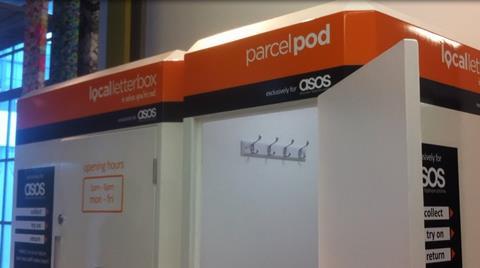 The service, provided by delivery operator Local Letterbox, will allow shoppers to get changed in specially designed Parcelpods that have their own changing room, meaning shoppers can try things on without having to take products home.
Local Letterbox says it is opening 500 parcel pods across the UK this year, and is currently testing the service at Asos's head office in Camden, London. The company is also planning to open small parcel shops, and aims to eventually have 4,000 shops and pods across the UK.
It says the pods, which will be manned by staff, will be placed in locations such as supermarkets, gyms, universities, rail stations and convenience stores. They will be open at least six days a week from 6am to 9pm.
Each pod will have space for hundreds of parcels and will accept deliveries from any retailer. Tracked, next-day delivery will costs consumers £2.99 and retailers £2.49 per delivery if they provide it for their shoppers.
Local Letterbox chief executive Nick Davis said the company is targeting the top 100 etailers in the first instance, as well as multichannel retailers whose business increasingly relies on click and collect.
The video below shows how the pod is designed.