As Sainsbury's pledges the importance of value for shoppers amid the cost-of-living crisis, Retail Week explores where the Tu Clothing offer sits within its food-first focus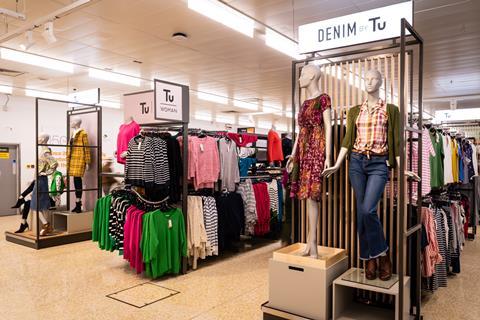 Supermarket giant Sainsbury's this week reported a decline in profit in a year dominated by inflation struggles for customers and confirmed its strategy was ultimately focused on food for the foreseeable future.
Despite Tu being the sixth largest UK clothing brand by volume, Sainsbury's chief executive Simon Roberts says that when it comes to its commitment to keeping prices lower for customers, the supermarket giant has to prioritise where the biggest value lies.
"We are very much focused on Nectar prices in grocery, and that's in supermarkets and online," he says.
"Obviously, lots of customers shop with Nectar when they shop for Tu but in terms of the promotions and value, we are focusing on food at this point."
While customers can't expect Nectar Prices to shift to Sainsbury's clothing line any time soon, Tu is still battling hard to win over customers eager to cut discretionary spending during the cost-of-living crisis.
Shopping habits
While consumers are trading down on grocery necessities, shopping habits across fashion have not followed the same trajectory.
Sainsbury's reported that full-price sales now account for 80% of the retailer's clothing sales, up 15% on a pre-pandemic comparison, while online sales have jumped 46% when compared to 2019 levels.
Roberts says customers being brought in by Sainsbury's food offer are also buying products from its wider stable of brands including Tu.
"We are selling more full-price. That is a good sign because I think it means more customers are buying into the offer in Tu and the range that we have," he explains.
"We are the only supermarket brand to be growing market share in the last six months. Also, we've seen more customers shopping online as our online sales have really picked up."
As shoppers increasingly rely on Sainsbury's for its low prices and value for money, it is inevitable this will encourage customers to also regularly shop across the Tu ranges in-store and online.
Third-party partnerships
While Sainsbury's competes in a fiercely competitive market when it comes to its clothing offer, it credits its "stronger" performance in that department to the growth of its third-party partnerships with the likes of Sosandar, Little Mistress and Finery.
Roberts says these tie-ups have been crucial in providing Tu customers with a wider choice of products.
GlobalData retail analyst Pippa Stephens says in order for Tu to outperform this year it needs to react faster to fashion trends and the ever-changing preferences of shoppers – a goal Sainsbury's believes third-party partnerships will help achieve.
Stephens adds: "The launch of third-party brands like Sosandar and Little Mistress should help it better its performance in FY2023/24, as it will allow its range to appeal to a wider selection of customers."
With a range of favoured brands now being available to shop in Sainsbury's stores, it is deemed a fashion shopping destination in its own right.
Following the success of its brand portfolio expansion over the last year, Tu's scope for growth and market share has not reached its limit.
Top sellers
Teasing the launch of some "great products for summer", Roberts says Tu has had a range of strong performers across its offer over the last year. "We've seen a real pick up in our childrenswear ranges, womenswear has been good, so pretty much across the board we've seen some really good performance," he says.
Sainsbury's also says shoppers have been loving co-ord outfits, wide-leg trousers and blazers, as customers shop a combination of trend-led products at a variety of price points.
While Tu has a growing market share, a successful range of third-party partners and is regularly launching seasonal, trend-led products for shoppers, it's clearly a lower priority for Sainsbury's and Roberts currently.
However, with summer approaching and some distant light at the end of the cost-of-living tunnel, Tu stands ready to prove its worth to Sainsbury's once again.
Get the latest fashion retail news and analysis straight to your inbox – sign up for our weekly newsletter